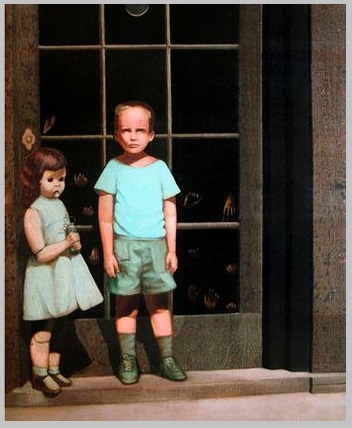 The provenance of They Who Want In, a cursed painting depicting a slightly grotesque doll and an expressionless boy standing in front of a door composed largely of glass panes, has long been a mystery. Unconfirmed reports say an obscure artist named Gaspar Laurence painted the image. Laurence can neither confirm nor deny these reports as he died after a massive stroke while an inmate at the Binkley Asylum for the Criminally Insane in the late summer of 1963. The painting hung for a time in the swank apartments of actor Bradford Hughes. Hollywood legend has long claimed the painting inspired Rod Serling to create Night Gallery, which aired for four years on NBC. ("The Cemetary", part of Night Gallery's pilot, featured a frightening painting that possesses characteristics attributed to They Who Want In.)
When Hughes committed suicide in 1976, the painting appears to have vanished. It was next reported in the possession of Mr. and Mrs. Harold Feldman, who claim to have found the painting in an antique shop while on vacation. They purchased the painting as a gift for Alice Feldman, their ten-year-old daughter. Little needs to be said about the horrific murder-suicide at the hands of Mr. Feldman followed by the arson that destroyed most of the Feldman home but somehow left the painting intact. The case is quite famous, and it has been thoroughly documented by no fewer than three authors.
Resourceful investigators may discover that Gaspar Laurence was born Gaspar Peruggio. He emigrated to the United States from Florence, Italy, shortly after World War II, changing his name in order to break from his past as a Nazi collaborator and dealer in stolen art and artifacts. He was also an avid occultist who had extensively studied several tomes related to the Mythos. In one of these tomes, Laurence learned dark secrets that enabled him to paint portals leading to and from realms of madness and despair. They Who Want In is one such painting.
At night, the painting draws on the psychic energies of those in its proximity. It stores some of this energy, and uses the remainder to create potentially terrifying effects. Anyone who spends more than an hour near the painting must make a POW versus POW struggle. The painting has 18 POW. If the victim fails this struggle, he loses 1 point of POW, which the painting converts to a Magic Point, and the victim must then make a SAN roll. SAN loss from this effect equals 0/1d4.
When the painting has accumulated 3 Magic Points, its deadlier effects begin to manifest. Those in proximity to the risk POW loss every 2d6 hours. The painting also spends Magic Points, always at night. The painting's powers and their Magic Point cost are summarized below.
1 Magic Point: Cause a figure in the painting to move. Anyone viewing this risks 1/1d4 points of SAN.
2 Magic Points: Cause several figures in the painting to move and make noise. Anyone experience this risks 1/1d6 SAN.
3 Magic Points: Cause either the doll or the boy to leave the painting and assume corporeal form. Anyone encountering either creature risks 0/1d4 SAN, unless they know the creature's origin, in which case they risk 1/1d6 SAN. Treat either creature as a ghoul. If killed, the figure reappears in the painting.
3 Magic Points: Become immune to fire and slashing damage until the sun rises.
5 Magic Points: Teleport itself to a different location. Stories say that at least once the painting has used this power to return to torment its owner after the owner had tossed the painting in a river.