I recently finished my stab at a Bard class for Swords & Wizardy, one of several languishing projects I've hemmed and hawed about for too long. I've since dusted off Chance Encounters, a collection of monsters for the aforementioned game. Here's a sample, including art by Butch Mappa.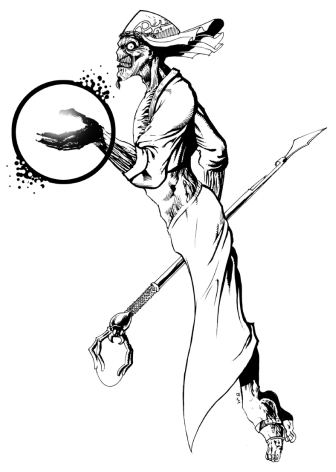 Rarely, after a Chaotic Magic-User dies, especially if in life he sowed dissension through deceit and gossip, the mage's evil takes new form as an undead sibilant corpse. The necromantic forces that animate a sibilant corpse also grant it frightening sorcerous power. Each day, a sibilant corpse may use its arcane whispers to bring into effect up to 14 levels of Magic-User spells, casting one spell this way per round. A sibilant corpse may cast Magic-User spells up to 3rd level with ease. Spells of 4th, 5th, and 6th level may be cast, but each such spell forces the sibilant corpse to make a saving throw. Failure not only means the spell is not successful, but also that the sibilant corpse takes 1 point of damage per level of the spell it attempted.
Hit Dice: 6
Armor Class: 8 [11]
Attack (Damage): Weapon (1d6)
Move: 12
Save: 11
Alignment: Chaos
Challenge Level/XP: 9/1,100
Special: Arcane whisper, undead
I've also been tooling about with a few new games, one of which is The Black Hack. If you don't own The Black Hack, you're wrong. Isn't there enough wrongness in the world? Yesterday, I typed up a Monk class for The Black Hack. I think it's a good example of how the system takes what is arguably the most complicated AD&D character class and strips it down to a few basics that can still capture the flavor and function of the original.
Monk
Starting HP: d8 + 4
HP Per Level/Resting: 1d8
Weapons & Armor: Any and None
Attack Damage: 1d6 / 1d8 Unarmed or Improvising
Special Features
A Monk has a special Usage die: Ki Powers. At 1st level, a Monk has Ki Powers d4. Whenever a Monk makes a save, he may do so with advantage by rolling his Ki Powers die as well. The Ki Powers die resets every day.
As part of his action, a Monk may make a number of additional Unarmed/Improvised attacks equal to half his level (drop fractions).
Leveling Up
Roll to see if attributes increase. Roll twice for DEX and WIS.
Every odd numbered level, step up the Ki Powers die.