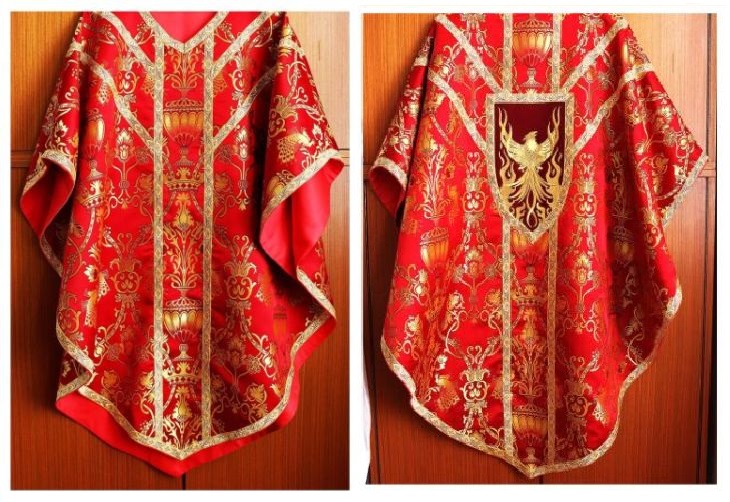 Shown in the pictures above are the front and back of a beautiful chasuble made by Geneviève Gomi of Maris Stella Vestments. I read about these remarkable garments on New Liturgical Movement's site, specifically this post right here.
A chasuble is a liturgical vestment worn over other vestments. It is something like a poncho. It's an oval-shaped (or nearly so) piece of cloth with a round hole for the priest's head to pass through. It tends to fall below the knees all around. It originated as a adaptation of common garb worn all over the Roman Empire in the first few centuries of Christianity. Originally, the priest at the altar would have been dressed very much the lay people in attendance at the Mass. In some way, the idea of reserving a special outer garment arose, possibly for no more reason than it was easier to keep one clean if it wasn't worn every day like normal clothing. As you can see from the pictures, chasubles today are no longer common articles of clothing, but can be works of art embroidered with ornate designs and images symbolic of religious doctrines, such as the use of the phoenix as a symbol for the resurrection of Jesus Christ.
My aims here, however, are significantly more modest. I'm just using a wonderful picture as inspiration for fantasy gaming.
The Phoenix Chasuble: This remarkable relic was created for the first bishop of Acqui Terme, who wore it on certain sacred days, including the day in which the bishop faced down an army of marauders at the city gates. The bishop's words and courage so impressed the war-like chiefs of that horde that they ordered that Acqui Terme remain unharmed. For more than the past two centuries, the Phoenix Chasuble has remained in the cathedral vestry, handed down from one bishop to the next. The full powers of the Phoenix Chasuble are perhaps unknown. The wearer gains complete immunity to fire, even magical flame. He also enjoys a +4 bonus to saving throws against magic. Once per day each, the wearer can use the following magical abilities: Continual Light, Detect Invisibility, Dispel Evil, Fireball, Fly, Protection from Evil 10-Foot Radius, and Wall of Fire. The wearer can communicate with any type of fire elemental while wearing the Phoenix Chasuble. Once per week upon command, the Phoenix Chasuble causes its wearer to burst in flames. The wearer's melee attacks inflict an additional 1d6 points of fire damage. Any creature striking the wearer in melee combat likewise suffers 1d6 points of fire damage. Usable By: Lawful Clerics only.