zoetic: (adj.) of or pertaining to life
The Maisha of Dunia have achieved widespread fame for their peaceful ways and medical skill. Dunia itself is slightly smaller than Terra at a distance that gives the world a cold climate. The polar regions are inhospitable to human life, and even the middle latitudes prove uncomfortable much of the year. The Maisha cultivate coniferous vegetation which humans tend to find unpalatable but nutritious. Other agricultural staples include a wide variety of lichens and fungi, many of the latter grown in subterranean farms. Dunia's population stands in the hundreds of millions, mostly Maishas, but the world does play host to a significant number of off-worlders.
Dunia
Atmosphere: Breathable mix
Temperature: Cold
Biosphere: Human-miscible
Population: Alien civilization
Tech Level: 4 with specialties
World Tags: Pilgrimage Site, Psionics Academy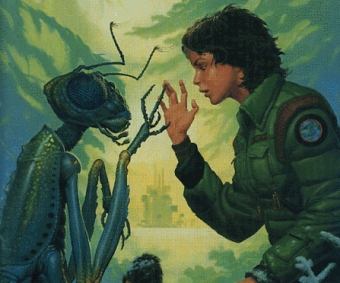 Maisha live at a tech level comparable to most of human space, but they excel in the field of medicine, including some medical psitech. The pretech manufactories that produce these wonders are zealously guarded by the Maisha, and Dunian medtech is an enormous source of income for the world and its citizens.
Maishas are insectoids, somewhat resembling humanoid grasshoppers. They have difficulty with human languages. Few humans have learned any of the various Maishan dialects at much more than a basic level, for the human mouth and pharynx cannot adequately produce many of the subtle clicks and chirrups that comprise Maishan phonemes. Maishas are herbivorous, and they tend to find the idea of consuming animal flesh repulsive in the extreme.
Maishan society is matriarchal and oligarchic, and a single religion dominates public and private life. Zoeticism is a deceptively simple faith that emphasizes preserving life and respecting the innate dignity of intelligent species. Due to Zoeticism's influence, Maishas tend to be pacifists. They reject the use of violence as a means of gaining advantage or in the pursuit of justice. Zoeticism teaches strongly against the rightness of revenge.
The Grand Zoetic Temple in Mji, Dunia's capital city, attracts visitors from throughout the sector. Many come just to see the site, and the Maishas welcome these interstellar tourists with open arms. A few off-worlders, however, seek enlightenment, hoping to rid themselves of burdens both physical and psychological. The most skilled devotees of Zoeticism, all of whom are Maishas, practice Pona, a semi-psionic discipline that aims at mental, spiritual, and physical perfection through ascetism, meditation, and the martial arts.
Pona is a martial art (as described in the excellent Mandate Archive Collection 2011). Maisha can buy skill levels in Pona as a class skill, while non-Maisha purchase skill levels in Pona at non-class skill point rates. This applies even to non-Maisha warriors.
Pona
Weapon Groups: Unarmed only
Level 0 (Novice): The novice can maintain the vital life processes of a mortally wounded creature with a touch. This functions like the biostasis psychic power. A non-psychic adds 2 points to his System Strain when using this ability, regardless of its success. A psychic adds half as much System Strain. Also, the novice's unarmed strikes inflict 1d4+1 points of damage. This damage is non-lethal and a victim reduced to 0 hit points is either unconscious for 1d4 minutes or helplessly restrained by the martial artist, at the artist's discretion.
Level 1 (Intermediate): The martial artist becomes resistant to harmful substances, gaining a +2 bonus to all saving throws versus diseases and toxins.
Level 2 (Master): The master's strikes do 1d8+1 points of damage. This damage is non-lethal and a victim reduced to 0 hit points is either unconscious for 1d4 minutes or helplessly restrained by the martial artist, at the artist's discretion. The master may perform a nerve strike as an attack, taking a -4 penalty on the roll. If the attack roll succeeds and the victim the fails a Physical Effect saving throw at a penalty equal to the master's Combat/Pona skill, the victim suffers double non-lethal damage from the attack.
A Maisha's exoskeleton gives it a natural Armor Class of 7. Otherwise, despite their appearance, they are comparable to humans in most respects. Even the largest Maisha tend to be small by adult human standards. Maisha cannot have a Strength greater than 14 or a Dexterity of less than 14. A Maisha cannot be a warrior.
Normal Maisha
Armor Class: 7
Hit Dice: 1/2
Attack Bonus: +0
Damage: 1d2 punch
Skill Bonus: +1
Saving Throw: 15+
Movement: 30 ft.
Morale: 7
Pona Master
Armor Class: 7
Hit Dice: 4
Attack Bonus: +3
Damage: 1d8+1 unarmed
Skill Bonus: +3
Saving Throw: 13+
Movement: 30 ft.
Morale: 10
This Pona master is also a psychic. She has mastered levels 1, 2, and 3 of the Biopsionics discipline. She has up to 4 levels in as many as two other disciplines. She uses her mastered powers freely, and she has 11 power points for triggering her other discipline(s).