telomeric: (adj.) relating to the natural end of a eukaryotic chromosome composed of a usually repetitive DNA sequence and serving to stabilize the chromosome
Highbeam Multistellar's most skilled engineers on Bellatrix have created some impressive weapons over the years, including the Bellatrixian plague fungus and the causality virus. In this grand tradition comes Highbeam's horrific telomeric gas.
This heavier-than-air gas (approximately as dense as carbon dioxide) acts quickly after being inhaled or otherwise absorbed through a mucuous membrane (or even via the eyes). At this time, the active chemicals in the gas attack the victim's DNA, overwhelming the telomeres of the target population the gas has been designed to effect. As a result, the victims' DNA replicates out of control, wreaking massive havoc on the victims' bodies. Death comes quickly, accompanied by a host of ghastly symptoms. Rarely, telomeric gas produces stable, beneficial mutations. Highbeam's think-tanks are trying to correct this flaw.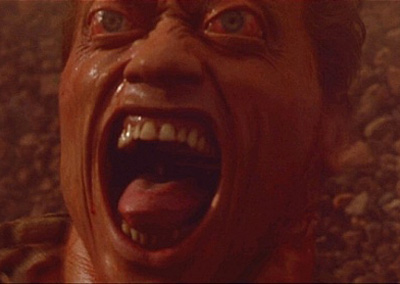 Telomeric Gas: Save Penalty -4, Toxicity 12, Interval every 4d6 hours, Virulence 5, Damage A failed save reduces Strength, Constitution, and Dexterity by 2 with a 50% chance that the reductions remain even if the victim is cured.
If you need a good ruleset for mutations, and you don't have access to TSR's 1st edition Gamma World, check out this free, zipped PDF of Mutant Future by Goblinoid Games. It's a great game, and the price is excellent.