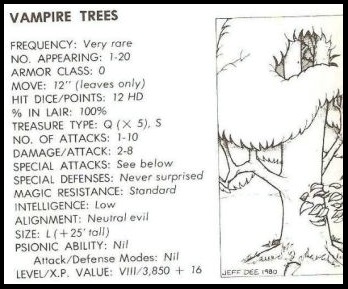 The humid night breeze rustled the leaves, which shifted just enough to reveal the corpse's pallid arm.
"Look," the thief said, pointing.
The thief's companions followed the finger with their eyes. The leaves covering the body rustled some more, revealing more of the corpse.
"What caused all those wounds?" the fighter said.
"I have a better question," said the wizard. "Why are those leaves starting to swirl about when the wind hasn't picked up?"
The pile of leaves, as if they heard the wizard's query, roared into a vortex of autumn colors before they raced toward the adventurers.
"We're in trouble," said the cleric, gripping his holy symbol.
Vampire Tree
The tree itself is immobile, but its leaves fly in swarms at night, hunting for prey much like vampire bats. When a swarm of leaves has drank their fill, they fly back, reattaching their swollen bodies to their branches to pump the blood into the tree. A vampire tree possesses dim intelligence, and its leaves have rudimentary visual and auditory senses combined with keen olfactory powers. A vampire tree fears fire, and will never send its leaves near flame.
For Barbarians of Lemuria
A full-grown vampire tree has hundreds of leaves. The stats below are for the tree's leaves. The tree itself has no attributes or combat abilities.
Attributes: (for a batch of 10 or so leaves) Strength -3, Agility 3, Mind -1
Combat Abilities: Batch of Leaves +4, damage d6-1; Defence 4; Protection 0; Lifeblood 5
For Dungeon World
Large, Solitary
Flock of Leaves (d8+1 damage, 2 piercing)
20 HP
1 Armor
Close, Reach
Instinct: To drain blood
* Blend into woodlands
* Control flying, blood-sucking leaves
* Fill the air with danger
For Swords & Wizardry
These creatures use their leaves as weapons, releasing the leaves from the branches to fly toward prey. The leaves attempt to attach themselves (attacking as 12 HD monsters) to a body. When attached, they suck blood, doing 2d4 points of damage per attached leaf. Damage is automatic after the first successful attack, each attached leaf continuing to drain 2d4 hit points per round. The leaves are AC 9, and each has only 2 hit points, plus any hit points drained from the victim. The leaves will return to the tree when any being travels more than 120 yards from the parent tree or when the creature has no blood left. The tree can only control 10 leaves at a time. Vampire trees save vs. fire at a -2 penalty, and take +1 extra point of damage for every die of damage done by flame.
HD 12; AC 0 (19); Atks 1d10 leaves (2d4); SV 3 (18 for leaves); Special never surprised, vampiric leaves, fire vulnerability; MV 12 flying (leaves only); AL C; CL/XP 16/3,200