Nota Bene: If you click on a pic, that pic embiggens so that you can read the cards more easily.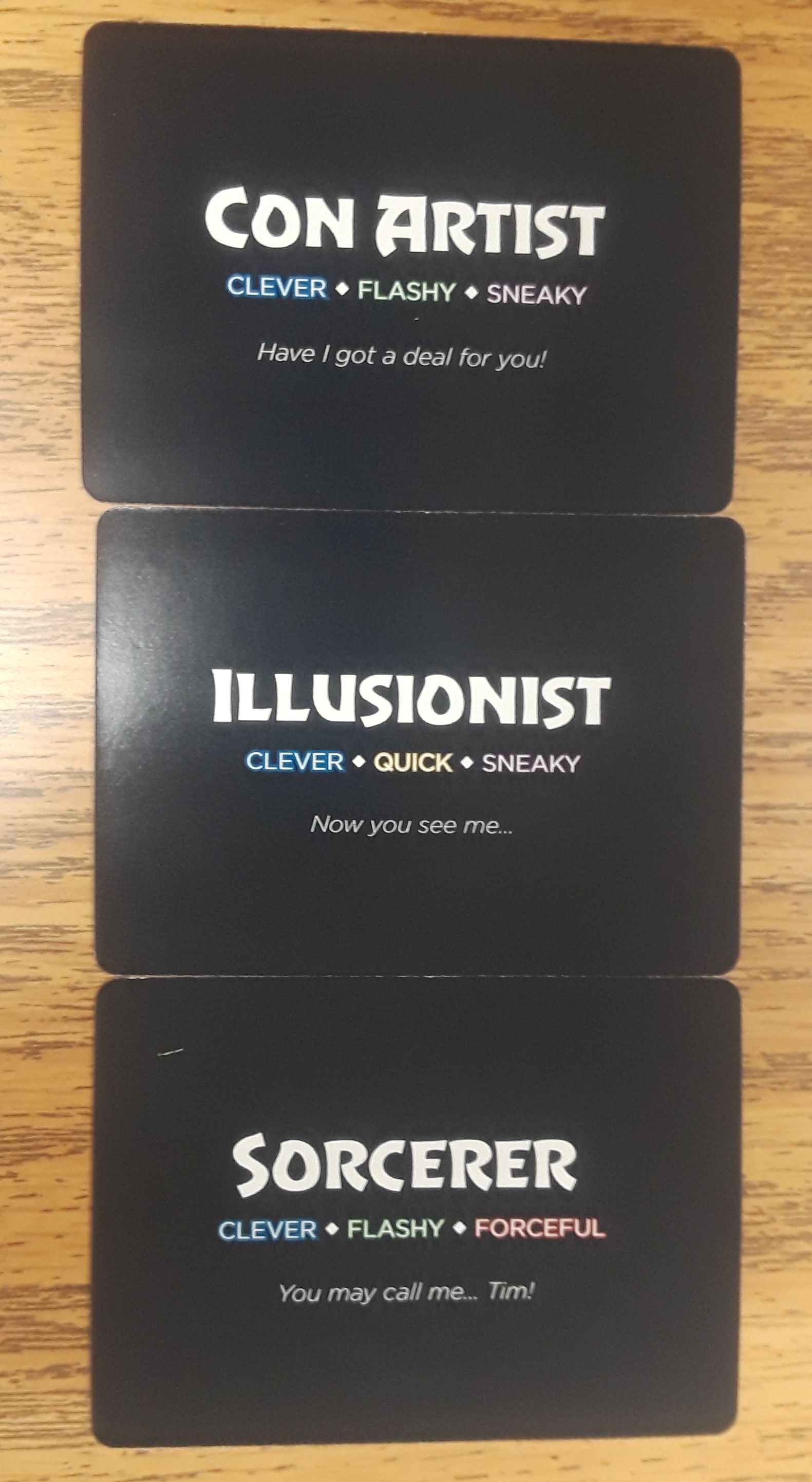 Recently I purchased It's Not My Fault!, published by Evil Hat Productions and available on DriveThruRPG at the aforelinked location. I went for PDF + Cards, currently available for $8.99, plus a clear plastic container for the cards, which was a buck more, if I recall correctly. All in all, not a bad price. The printed cards, as you can see in the pics, aren't works of art, which I appreciate. My aging eyes enjoy not struggling with miniscule point sizes and exotic fonts layered over art or some sort of pattern.
The deck is really four decks in one. Twenty cards are "character aspect/approach/stunt cards". One side shows what some systems call a character class (Con Artist or Illusionist, for example) along with three approaches, color-coded, and an aspect in italics. Players pick two cards in turn, and the third is dealt at random. On the flip side of the cards you find which approaches that "class" is best at along with a stunt. The player adds up the pluses for the approaches, makes note of the stunts, et cetera, and the character is done.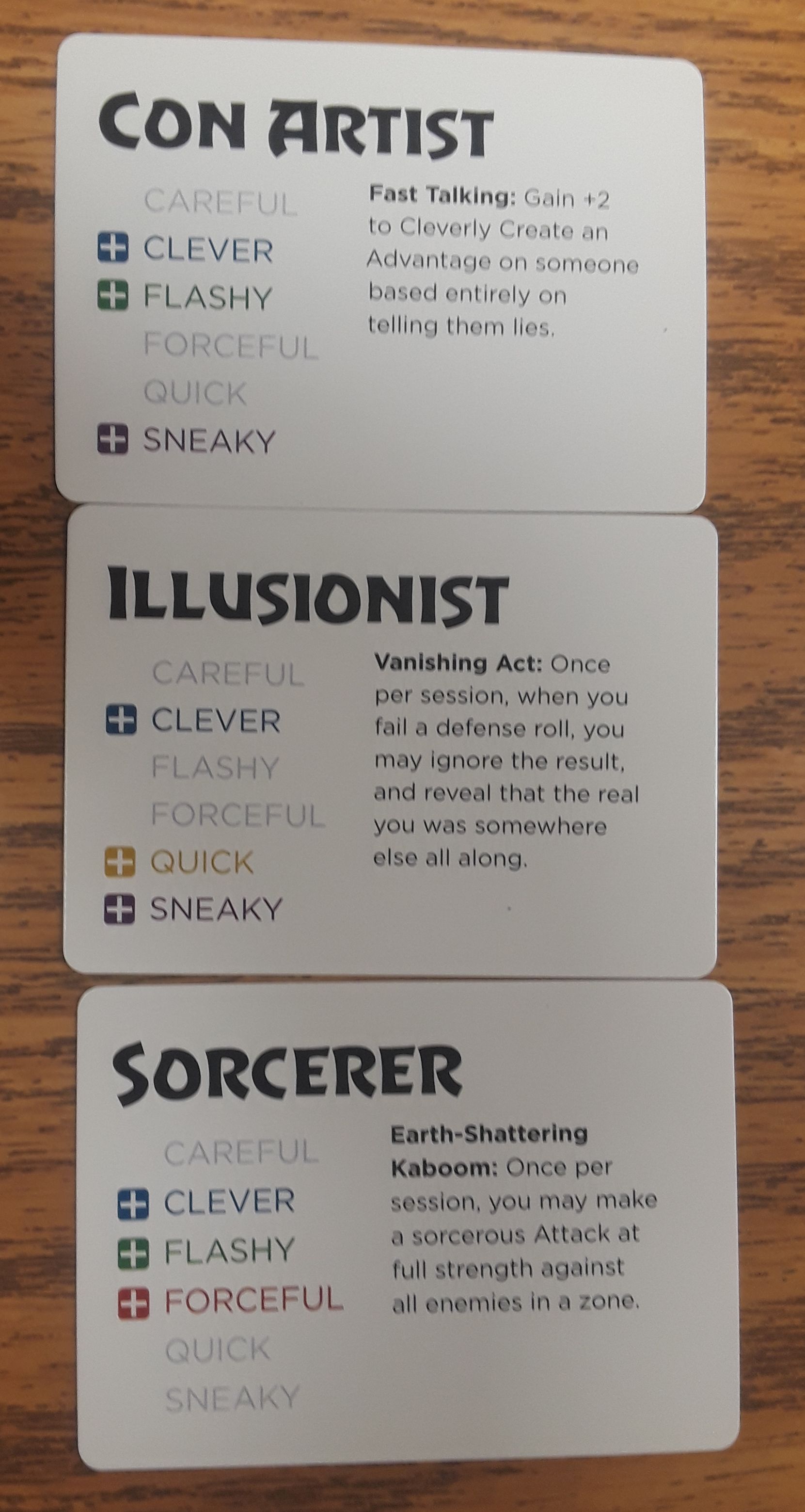 I chose Con Artist and Illusionist. I randomly dealt myself Sorcerer. My character's aspects are Have I Got a Deal for You!, Now You See Me…, and You May Call Me…Tim!. I like the idea of the first one being the character's high concept.
His approaches are Careful +0, Clever +2, Flashy +2, Forceful +1, Quick +1, and Sneaky +2. He has three stunts, one from each card: Fast Talking, Vanishing Act, and Earth-Shattering Kaboom.
The other three decks within the deck each include 14 cards that "help you generate a sticky situation fast". Shuffle each deck, deal one card from each. These cards answer the questions Where Are You Now?, What Brought You To This?, and (my favorite question) How Is It About To Get Worse?.
I randomly dealt a card from each deck. We discover that my character is miles underground because he swore an oath while drunk and that his means of escape just left without him.
The PDFs that come with the product also include card-sized rules references and card-sized character sheets. I've not provided examples of these, but you can see a sample at this link.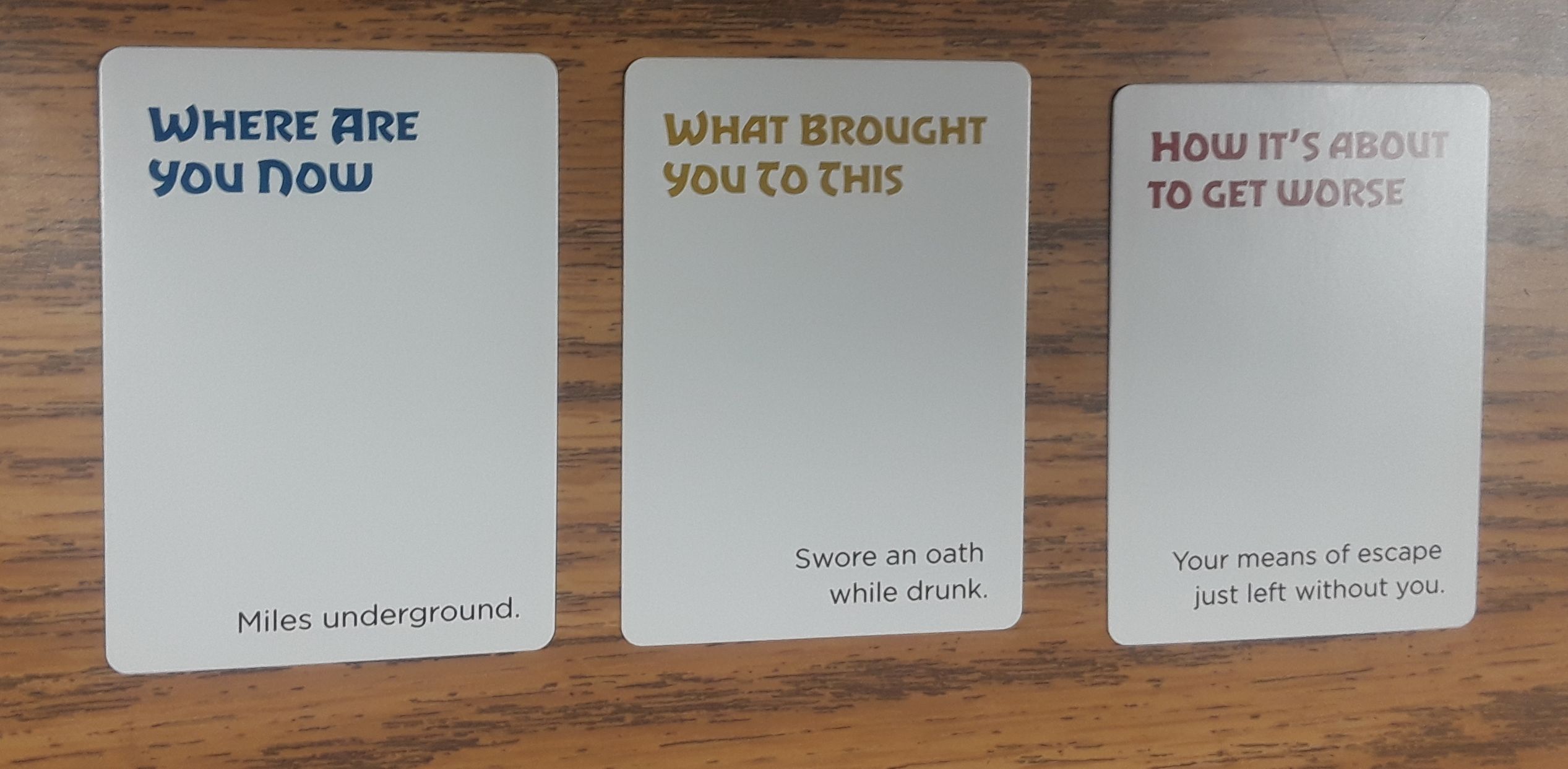 I'm kind of psyched about my It's Not My Fault! cards. Fate Accelerated has become one of my favorite game systems over the past few years. It's versatile, easy, and fun. Looks like it might be time for to schedule another dinner-and-gaming event.
Huzzah.