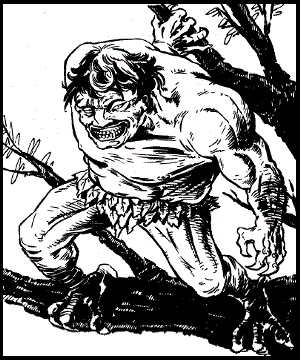 Evil and intelligent, the bajang, a type of lesser spirit, lives in tropical jungles, where it delights in terrorizing settlements. Wicked magic ties the bajang's lifeforce to a single tree in the forest in which it dwells.
In its true form, the bajang looks like a stunted, stocky human with a blunt nose, wispy hair, and pale brown skin. Its beady orange eyes glare malevolently, and a permanent evil sneer creases its wide, lipless mouth. Instead of fingers, it has bony claws, and its feet resemble the talons of a vulture. The bajang can also take the form of a small wildcat, and its victims most often encounter the bajang in this form. As a wildcat, it has light brown fur and retains its distinctive orange eyes.
A vicious and devious fighter, the bajang delights in attacking the wounded, weak, or otherwise helpless. This monster seldom negotiates, and it may be incapable of telling the truth even to save its own life.
For Barbarians of Lemuria
Attributes: Strength 2, Agility 2, Mind 1
Combat Abilities: 2 bony claws +1, damage d6-1 plus poison; Defence 1; Protection 0; Lifeblood 12
Special: The bajang can turn into a small wild cat at will. It uses magic as if it has two ranks in the magician career. Bajang poison forces the victim to make a Hard strength roll to avoid suffering from painful cramps that impose a -1 penalty to strength and agility for 1d6+1 minutes.
For Dungeon World
Intelligent, Magical, Medium, Solitary, Stealthy
Bony Claws (d10 damage, messy)
16 HP
0 Armor
Close
Instinct: To terrorize the weak
* Ambush even the alert
* Form of a wild cat
* Weave enchantments of disease and loss
For Swords & Wizardry
An opponent struck by the bajang's claws must make a saving throw or succumb to the monster's poison, which inflicts wracking pains that cause a -1 penalty on all saving throws and attack rolls for the next 1d6 + 1 rounds. The poison's effect is cumulative; each failed saving throw increases the penalty and adds one round to the duration. In its natural form, the bajang can cast control winds, hold person, and locate object three times per day each. It can cast cloudkill once per day.
In wildcat form, the bajang retains the Armor Class, Hit Dice, movement, and hit points of its original form. It attacks three times per round, inflicting 1-2 points of damage for each successful bite and front claw attack. If both forepaw attacks are successful in the same round, it can attempt two rear claw attacks for an additional 1-2 points of damage each. A bajang cannot cast spells while in wildcat form.
HD 6; AC 2 (17); Atks 2 claws (1d4 plus poison); SV 11; Special 10% magic resistance, change form, poison, spells; MV 12; AL C; CL/XP 11/1,700