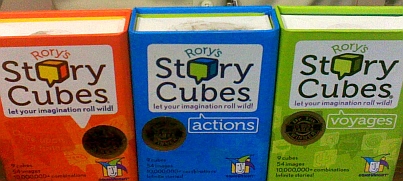 A bit more than a year ago, I blogged about Rory's Story Cubes (see here for details). Back then, I had two of the three sets of Story Cubes. Over this last holiday, I got the third set at 8th Dimension Comics & Games.
Each set of Story Cubes includes nine six-sided dice with each die having six different pictures. In set one, the orange box, each picture is a noun, such as a flower, a lightning bolt, or a pyramid. Set two includes actions. Each picture shows one or more people doing something, such as climbing a tree, laughing, or digging a hole. My new set, in a lovely lime green box, includes more nouns, all built around the theme of "Voyages". For example, some of the pictures include six beans (magical?), a sun peaking over a horizon, or a puzzle piece. With the Story Cubes in hand, I've got a powerful tool to generate adventure hooks.
"How so?" you ask.
Well, perhaps by using this format as a guide: noun-verb direct-object, corresponding to orange box-blue box-lime box, respectively.
For example, let's say I rolled the dice, and I get these pictures: abacus, person with hurt thumb, rain cloud. Here're two possibilities:
"A magical abacus built by a wizard after a personal tragedy controls the weather."
"Advanced mathematical formulae discovered by researchers working for the Resistance hold the key to undoing world-wide ecological damage."
Either one of those sentences could serve as adventure hooks. When you consider that three boxes together can be used to create about a bajillion different simple sentences, you have an enormous resource available to you. If you don't have Rory's Story Cubes, check them out. There worth a few bucks a set.