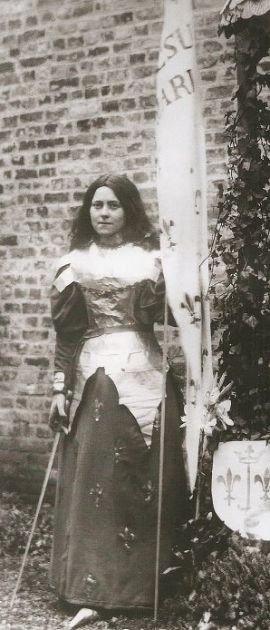 In the picture, we see Thérèse of Lisieux in costume as Joan of Arc. The photograph dates from early 1895, about two years before Thérèse's death from tuberculosis at the age of 24. Her sainthood was declared in May 1925 by Pius IX. Thérèse is the patron saint of aviators, florists, and those who suffer illnesses. Along with Francis Xavier, Thérèse is the patron of missions, and she and Joan are co-patrons of France. John Paul II declared Thérèse a Doctor of the Church in 1997, an honor Thérèse shares with three other women and about 30 men, an impressive accomplishment for such a young lady. Thérèse had a special fondness for Joan of Arc. You can read more about Thérèse at this site.
"But now," [Jesus] said, "take your money and a traveler's bag. And if you don't have a sword, sell your cloak and buy one!" (The Gospel According to St. Luke 22:36)
Bellatrix
Background & Origin: Emmanuelle Paquet, orphan and raised in a convent school by Discalced Carmelites, received an exceptional education growing up, to include a most unusual course of rigorous training in swordsmanship by Sister Joaquina de Olot, who had been a skilled athlete before taking vows. Emmanuelle also embraced an ethos focused on the works of mercy. After completing her schooling, Emmanuelle left the convent, taking on a position as a music tutor and earning additional monies as a secretary for a law office. In the latter position, Emmanuelle saw first-hand the effects of crime and poverty on people, especially on women and children.
The plight of several families at the hands of Hugo Mesrine, an extortionist and racketeer, greatly disturbed Emmanuelle. The young lady donned a costume and armed herself with sword and shield. Over a period of several days, Emmanuelle brought the fight to Mesrine and his criminal cohorts. She protected those families, disrupted Mesrine's operations, and gathered evidence against Mesrine. The Parisian press exploded with sensational stories of a mysterious female vigilante. One journalist, picking up on the religious motifs of Emmanuelle's costume and exploits, dubbed her Bellatrix, and the name stuck. In the end, Mesrine's operations were crippled, and Mesrine himself found himself facing a date with Madame Guillotine. The Parisian underworld was shaken to its roots, and the people of Paris largely embraced Bellatrix as their protectress.
Motivation: To serve God and fight evil!
Qualities: Master [+6] Swordswoman, Master [+6] Gadget: Shield, Expert [+4] Athlete, Good [+2] Classical Education, Good [+2] Contacts with the Press, Good [+2] Criminology, Good [+2] Devotion to St. Joan of Arc, Good [+2] Hero of the People, Good [+2] Polyglot, Poor [-2] Ability to Compromise
Powers: None
Stunts: Expert [+4] Ricochet Shield Throw (Gadget: Shield Spin-Off, 1 HP)
Hero Point Pool: 5/10