…to make Farmer Vincent Fritters!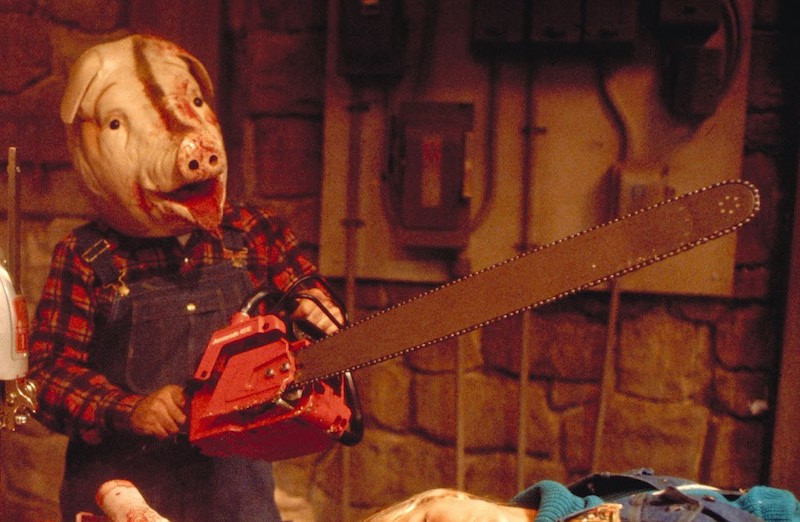 In the salubrious spirit of Thanksgiving feasting and fun, the family-owned businesses of Farmer Vincent Fritters and Motel Hello welcome your investigators to their table.
Your Hosts
Motel Hello and its famous Farmer Vincent Fritters are family-owned and operated by the Smiths for decades.
Farmer Vincent
Tall and elderly but still handsome with a warm smile and a welcoming demeanor, Vincent is the patriarch of the family.
Hit Dice: 3 (2d4 damage)
Notes: Vincent is an extremely high-functioning psychopath. He is a clever hunter and has a real talent for mechnical engineering. Saves to detect his lies and evade his traps are made with Disadvantage. He is proficient with a shotgun and a carving knife, but its with a chainsaw that he shows real skill. Strength Saves to avoid Vincent's chainsaw attacks are also made with Disadvantage.
Ida, His Sister
Heavy set and childish even in her 30s, her facade of normalcy quickly becomes strained when frustrated or threatened.
Hit Dice: 2 (1d6 damage)
Notes: Ida is Vincent's right hand. She has difficulty presenting herself as a normal, functioning adult, but as long as she's under Vincent's influence, she's unlikely to be pegged as anything other than socially awkward. Despite her weight and clumsy appearance, Ida is remarkably stealthy. Saves to notice her when she's being sneaky are made with Disadvantage. Ida is a competent nurse and can perform even simple surgery.
Bruce, His Brother
Tall with the physique of faded high school athlete, his sheriff's uniform is always neatly pressed and his boots spit-shined.
Hit Dice: 2 (1d6 damage)
Notes: Bruce is the youngest of the siblings, and he is the least insane of the trio. This doesn't mean he isn't dangerous. He's not only a cannibal, but he's also a duly-elected county sheriff, popular with and generally respected by his constituents.
Places to See
The Motel: Set a few miles off the nearest highway, Motel Hello presents a rustic, homey charm to patrons. The rooms are clean and neat, and prices are reasonable. The motel is set on several acres of rural countryside that includes copses of trees, hiking paths, a man-made pond, picnic areas, and a small farm where Vincent grows alfalfa.
The Pens: Vincent keeps hogs and chickens. Free bags of feed for children staying at the motel are available in the lobby.
The Smokehouse: This building is kept locked to keep visitors from discovering the secret ingredient in Farmer Vincent Fritters. A small but well-appointed slaughterhouse is adjacent to the smokehouse. There's also a large walk-in freezer.
The Pond: Of modest size, visitors are welcome to take out a small rowboat or bob about in an inner tube, enjoying the cool water on those hot days. There are picnic areas near the pond as well.
The Garden: Hidden within a copse of trees, surrounded by a camouflaged fence that is kept locked, Vincent "grows" his most secret ingredient here. He and Ida "plant" people after surgically disabling their vocal chords. Buried up to their necks, Vincent feeds this "crop" a nourishing mix of special ingredients through funnels attached to snorkels. Vincent's victims are usually travelers captured on the nearby highway with the help of one of Vincent's clever traps.
The Traps: Vincent loves to come up with clever traps to get drivers to pull over so that he can capture them. He and Ida use a potent knock-out gas carried in thermos-sized canister with an attached anesthesia mask to knock out their victims. The gas works rapidly to render a victim unconscious. Constitution Saves to avoid unconsciousness after breathing the gas are made with Disadvantage.