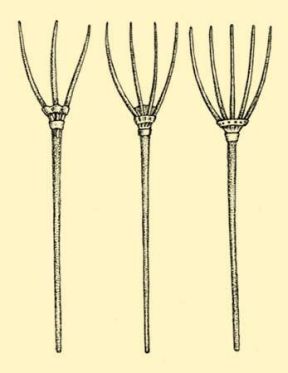 For reference, see Luke 3:10-18. First, a new cleric spell:
Azniko's Prohibitive Winnowing Fork
Spell Level: Cleric, 5th Level
Range: Centered on caster
Duration: 6 melee rounds
A mystical winnowing fork formed from holy fire appears floating in the air within 20 feet of the caster. Once per round for the duration of the spell, the winnowing fork flies to strike an evil creature within a 20-foot radius of the caster, causing 3d10 points of damage and forcing a saving throw to avoid another 3d10 points of fire damage.
Next, a new magic weapon:
Blessed Winnowing Fork: This weapon function like a spear in combat. It has +2 to-hit and damage bonuses against undead and infernal creatures. Once per day, the wielder can use Dispel Evil (as if cast by a 10th-level cleric).
And, lastly, a new remarkable magic item:
Immolating Chaff: This magical dry and scaly plant material, usually found in a pouch holding 3d6 handfuls, possesses a remarkable power. A handful can be tossed up to 10 feet at an evil creature, which must make a saving throw to avoid bursting into flames. This causes 1d6 points of damage per melee round for 2d4 rounds, but the flames can be put out by usual means. Usable By: Clerics.