Did you know that you can buy both Erik Jensen's Bonespur Glacier and Jason Paul McCartan's The Tomb of Bashyr as an OSRIC game system, double-feature module? Well, you do now.
Best of all, this double-feature module helps fund a worthwhile charitable effort: St. Jude Children's Research Hospital. This link takes you the pay-what-you-want version. There's also this $4.99 version. I've purchased my copy, and you should too. It's a great pair of adventures written for a great game that help support a great organization.
And now, a new magic item!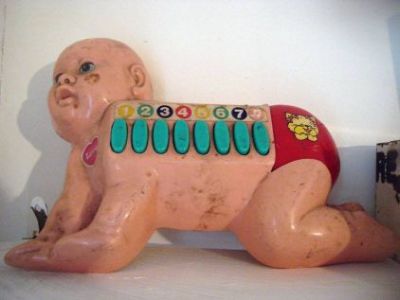 Little Baby Sings
This strange toy, cast from metal into the shape of a crawling infant and painted with bright colors, features eight oblong buttons on one side. The first seven buttons are numbered; the last is labeled with a musical note.
The toy's holder can press a numbered button and then the musical note button to produce a magical effect. The exact effects vary as it seems as if no two of these items are identical.
Possibilities could include such effects as these:
1. A single humanoid creature of 4 or fewer Hit Dice within 30 feet is dazed and loses its next action.
2. For one round, the use can make a rope move as commanded.
3. A single creature of 5 or fewer Hit Dice suffer from severe fear for 1d4 rounds.
4. An illusionary duplicate of the holder appears and lasts for 1d4 rounds. The duplicate mimics the holder's actions.
5. Secret doors within 30 feet are revealed.
6. For the next minute, the holder can walk across water or other similiar substances as if they were solid ground.
7. Ignite a flammable object within 30 feet.