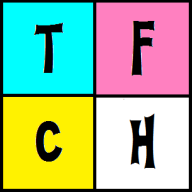 So, my soon-to-be-released-in-playtest-format superhero RPG The Four Color Hack is almost ready for DriveThruRPG. As part of the section on villains, I include stats for agents of H.U.R.T., but I have no idea what H.U.R.T. stands for. Thoughts? Suggestions?
Also, let's take a look at the rules for creating villains and mobs.
Each Issue features certain villains, mobs, and non-heroes. In all three instances, the rules for hero creation do not apply. Those rules exist for the Writers to create their heroes. As the Editor, you have more freedom.
Villains: Every villain has a level, which ranges from 1 to 10. The villain's level determines his base damage, damage points, and Hero Dice equivalent for powers and abilities.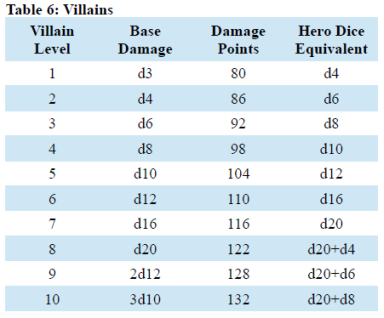 Base damage shows what to roll when the villain makes a successful attack. You'll need to define that this attack looks like. Damage points are divided between Body and Spirit in whatever ratio seems appropriate for the villain. Also, the villain has base protection points equal to his level. These base protection points are divided between Body and Spirit as deemed acceptable. The Hero Dice equivalent column shows you the strength of the villain's powers and abilities. Average the Villain Level column to approximate the villain's actual level if you mix and match values from the chart.
For example, let's consider Brutacles, who is something of a novice villain, but he's not a complete novice. He is level two for base damage and damage points. He derives his powers from mutagenic steroids, which has a d8 value, and he wears protective armor and fights with a ball-and-chain.
Brutacles (Level 2 Villain)
Body: 66 (2 protection)
Spirit: 20 (0 protection)
Base Damage: d4
Powers: Ball-and-Chain d6 (1d4+1d6+1d8 damage), Brutal Armor d6 (4 protection), Mutagenic Steroids d8
Sadistic and violent, Brutacles fights with a Ball-and-Chain aided by muscles enhanced with Mutagenic Steroids. He is physically tough (6 points of protection for Body), but his mental and spiritual defenses are quite lacking. Brutacles is strong enough to lift about 2,400 pounds.
Mobs: Not all threats rise to the level of villain, but that doesn't mean they can be ignored. Mobs represent a middle ground between villains and non-heroes. Most heroes won't have too much trouble dealing with mobs, but these bad guys can still serve to slow down, confuse, and harrass heroes. All mobs have d3 base damage, 80 damage points, and at most a d4 Hero Die equivalent. They have one point of base protection at most, and some item of equipment usually explains this defense. Each mob represents either a large group (9-12 individuals) or small group (2-5 individuals). Divide the mob's damage points as evenly as possible among the individuals.
When a mob (or part of a mob) targets a hero, don't expect a roll to defend against each member of the mob. A single roll suffices, but increase the mob's damage by +1 for each member after the first. For example, a mob of ten H.U.R.T. agents lay down a barrage of blaster fire at Diesel. Diesel's player rolls 1d20 to defend, and fails. Diesel suffers 1d3+1d4+9 points of damage from the combined assault, which is probably enough to inflict a small amount of Body damage to the metal-skinned hero.
Agents of H.U.R.T. (Mob of 10)
Body: 50 (5 per agent)
Spirit: 30 (3 per agent)
Base Damage: d3
Equipment: Body Armor (1 protection)
Powers: Anti-Hero Weaponry d4
The agents of H.U.R.T. are trained, paramilitary operatives. Individually, they present little threat to heroes, but they operate in squads and are typically armed with high-powered blasters or other anti-hero weaponry.