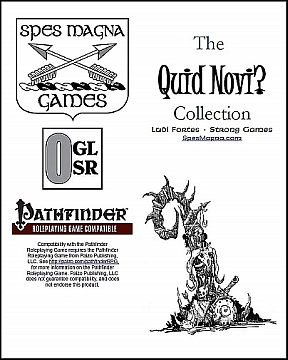 When I started Spes Magna Games back in 2009, I also started Quid Novi?, a twice-monthly e-mail newsletter of gaming goodness that eventually became a monthly PDF of gaming goodness which has now fallen by the wayside. The Quid Novi? Collection includes the 10 individual PDFs as originally published.
About 80% of the content in the Quid Novi? Collection is for the Pathfinder Roleplaying Game. You get two short adventures, and curses, diseases, magic items, haunts, monsters, giant lilypads, spells, and a Psionics domain for clerics. The other 20% of the collection was written for Old School gaming, and includes two short adventures as well as curses, magic items, prismatic mists, monsters, deadly mushrooms, and spells
Caveat emptor: If you were a Quid Novi? subscriber, you've got no reason to buy this collection. You already received all of these PDFs for free. The zipped file for sale includes 10 separate, bookmarked PDFs.
With this special discount code for DriveThruRPG, you can get The Quid Novi? Collection for $1.50, half off its regular price.