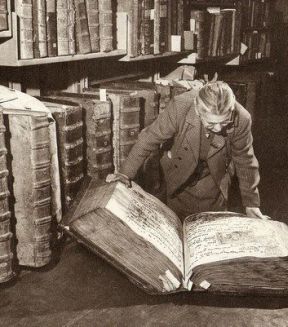 Nestled near the center of New Motor City stands the library of Yozuvchi of the Endless Tales. Yozzie, as she is called by the locals, is a mutant human gifted with great longevity, intelligence, and a bizarre mutation. Rumors say that Yozzie has lived for centuries, and that she spent much of her time traveling the world, seeking and finding the knowledge of the Ancients.
Whatever the truth of these rumors, Yozzie's knowledge cannot be doubted. She understands many technological artifacts, and her advice to New Motor City's rulers has proven invaluable in improving the quality of life for the city's residents. New hybrids of grain and farming methods help ensure that few go hungry even in the leanest of times. Her work on the city's water purification systems has likewise been a boon to all. In her position as Prime Educator, Yozzie oversees schools as well as New Motor City's library.
Yozzie appears very much like a human woman in late middle age, but she stands a mere 20 inches high, or so it appears. In truth, Yozzie is a woman of average height, but a strange spatial displacement effect causes her to be 30 feet away from objects that can touch her even when she is really only an arm's length or so away from the object. What's more, this displacement effect does not affect Yozzie. This means that Yozzie can be close enough to slap you but too far away from you to hit her even with a polearm.
Not that Yozzie worries about being able to attack enemies. She is very nearly revered throughout New Motor City. She has repaired and reprogrammed two assault bots called Bric and Brac. These formidable machines serve as Yozzie's guards. Yozzie also carries a stun baton. If she's expecting trouble, she'll be wearing ballistic nylon armor.
No. Enc.: 1 (unique)
Alignment: Lawful
Movement: 120′ (40′)
Armor Class: 9 or 5
Hit Dice: 8 (36 hit points)
Attacks: 1
Damage: Weapon type
Save: L9
Morale: 7
Hoard Class: XVIII
XP: 2,560
Mutations: Intellectual Affinity (Tinkerer), Regenerative Capability, Quick Mind, Unique (Paradoxical Spatial Displacement, Slow Aging)