At long last, the for-sale version of The Four Color Hack arrives at a virtual store near you. The revised, improved rules include streamlined, flexible ways to use Hero Dice to better simulate comic book action. Eleven villains make their debut in the rules as well.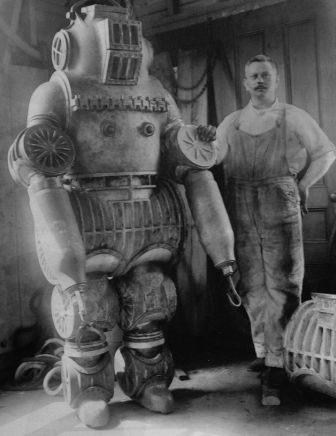 If you've previously downloaded TFCH, you should have received an e-mail about the update. If not, the game sells for $3 US, but you can get it for $2 US by using this discount link (which expires at the end of July). Before the start of next week, I'll also have updated Battle in Jurgen Zeeger Park, a short scenario for TFCH. If you've downloaded Zeeger Park, you should receive an e-mail about the updated file when it's updated.
Here's a new villain for TFCH suitable for a WWII-era setting:
Eisenmann
Level 5 Villain
Quote: "I will crush you!"
Real Name: Bernd Kalbfleisch
Identity: Secret
Place of Birth: Essen, Germany
Height: 6 ft. 2 in. (7 ft. 2 in. in armor)
Weight: 200 lbs. (600 lbs. in armor)
Eyes: Blue
Hair: Brown
Hit Points: 30 (5 Vigor)
Base Damage: 1d12
Powers: Jet-Assisted Leap d10, Mechanical Genius d10, V-2 Eisenmann Power Armor d12 (7 protection, 2d12 damage)
Bernd Kalbfleisch was an early and avid supporter of the Nazis. After Adolf Hitler was appoint chancellor in 1933, Kalbfleisch quickly rose to prominence thanks to his mechanical genius and zeal to help rebuild Germany into a formidable military power. To his end, Kalbfleisch designed and built his Eisenmann Power Armor. In order to prove its effectiveness, he donned the armor himself and used it to crush resistance to the Nazis, operating in conjunction with the Sturmabteilung. Once the war started in September 1939, Kalbfleisch unveiled his second design. Now a member of the Schutzstaffel, Kalbfleisch splits his time between his laboratories and the field, where he aids the Wehrmacht under the code name Eisenmann.
Kalbfleisch's armor greatly augments his strength, enabling him to lift about 25 tons. It also protects him from harm. The powerful jets built into the armor's legs and feet permit jet-assisted leaps of about 320 yards. Kalbfleisch is a brilliant mechanical engineer, and he often field tests new devices. Use the d10 from Mechanical Genius as a Hero Die to "purchase" new devices to use against the heroes, splitting the d10 into at least 2d8.