Few explorers brave the Neverglads, that vast expanse of toxic tropical wetlands that has swallowed up the ruins of several ancient cities, several of which boasted impressive biological and chemical industries. As the End of All Things spread havoc across the world, industry safeguards failed and the Neverglads became a mutagenic hellscape covering more than 11,000 square miles (28,500 square kilometers). The natural and mutant hazards found within the Neverglads are legion. The farther one travels into the region's heart, the wilder the terrain becomes. Poisonous quicksand, mutant pythons, giant alligators, bizarre temporal ripples, dangerous plants, savage tribes, billions of disease-carrying pests, and xenophobic secret societies are only some of the more well-known dangers.
Ojoran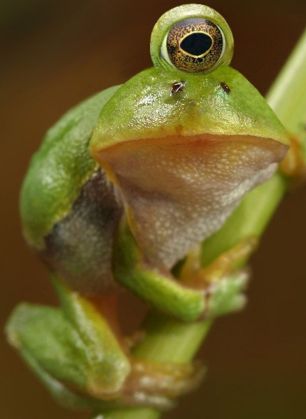 Ojorans are probably the most common amphibian in the Neverglads. They appear as small tree frogs, most growing to no more than three or four inches long. An ojorans most remarkable feature is its bulbous single eye. In general, ojorans are inoffensive creatures. They prey on small insects, not on explorers. Timid, even skittish, ojorans avoid contact with other creatures, usually via their adaptive and variable coloration. Ojorans are prodigious climbers as well, easily able to retreat to the heights of the trees that grow throughout the Neverglads. All of this should be construed as saying that ojorans are harmless. They often congregate in large groups, especially during mating season. While the poison slime that an ojoran's pores secretes is not especially toxic, more than a few careless explorers have succumbed to the effects of blundering into dozens of ojorans.
No. Enc.: 2d6 (12d6)
Alignment: Neutral
Movement: 60′ (20′)
Armor Class: 8
Hit Dice: 1d2 hit points
Attacks: 1 (poison slime)
Damage: 1d6
Save: L1
Morale: 6
Hoard Class: None
XP: 8
Mutations: Chameleon Epidermis, Dermal Poison Slime (Class 1), Increased Balance
Ranaserp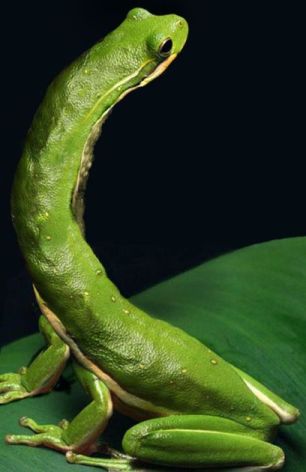 Compared to ojorans, ranaserps merit caution, even fear. A ranaserp appears to be a strange hybrid of frog and serpent, but of impressive size as the adult ranaserp reaches lengths of 18 feet. This six-legged amphibious predator has a sinuous, powerful neck and a highly venomous bite. While not particularly quick on the run, it moves with great silence, striking by surprise whenever possible, doing so 4 times out of 6. Ranaserps prey on all manner of creatures, preferring warm-blooded animals (mutant or otherwise).
If two ranaserps are encountered, they are 85% likely to be a mated pair, in which case it is 50% likely that an additional 2d8 immature offspring are nearby. Despite this mutant's amphibian ancestry, ranaserps are protective of their young. Typically the female stays near the den to guard the young while the male hunts, swallowing poisoned prey whole to regurgitate later the partially digested meal for the immature ranaserps.
No. Enc.: 1d2
Alignment: Neutral
Movement: 90′ (30′)
Armor Class: 6
Hit Dice: 6
Attacks: 1 (bite)
Damage: 1d6+3 plus 5d6 poison
Save: L3
Morale: 9
Hoard Class: None
XP: 1,320
Mutations: Gigantism, Natural Weapon (fangs), Toxic Weapon (Class 5), Thermal Vision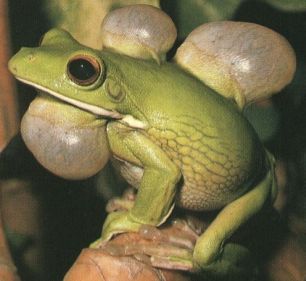 Ranenferm
In truth, the ranenferm is not a mutant frog. It instead is a mutant fungus that prefers to use a giant amphibian as a growth medium. (Nota Bene: Use standard giant toad stats for "ordinary" giant frogs to duplicate the mutant shown in the picture.) A ranenferm without a host is immobile. It uses possession to bring a potential host close enough for its vegetal parasitism to take effect. After this, the ranenferm need no longer maintain mental domination of the host via possession. Also, the host organism becomes harder to kill as the ranenferm's hyphae spread into the host's tissues, muscles, bones, and nervous system.
Ranenferms are highly intelligent and malicious. They communicate with their own kind via a form of telepathy, but their mental processes are so alien that communication with other lifeforms appears impossible. Of course, it could be that ranenferms simply view other creatures as beneath contempt, thus refusing to communicate to such "inferior" specimens. Whatever the truth, ranenferms pose a serious danger to travelers within the Neverglads, and communities both near and within that region often exhibit justifiable alarm about even perceived signs of ranenferm "infection". Fire is the preferred method of treating those believed to be playing host to a ranenferm.
No. Enc.: 1d4 per host organism
Alignment: Chaotic
Movement: As host organism
Armor Class: As host organism + 1 per ranenferm
Hit Dice: As host organism + 1 Hit Die per ranenferm
Attacks: As host organism
Damage: As host organism
Save: Equal to total Hit Dice
Morale: 10
Hoard Class: XX
XP: As host organism modified by additional Hit Dice and mutations
Mutations: As host organism, plus Metaconcert, Possession, Prehensile Tendrils (Simple), Vegetal Parasite