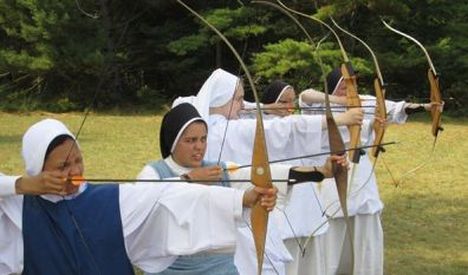 The Bellicose Sisters of Saint Sebastian live in well-fortified abbeys wherein they practice the arts of war in addition to devoting their time to prayer and service to the poor and the orphaned.
When the first packs of varulfs invaded the Commonwealth's northern frontiers, the Papal Legate's soldiers proved barely adequate to the task of repelling the lycanthropic threat. Saint Sebastian of Narbonne appeared to Abbatissa Elisabet via locution. The martyr pulled an arrow from his body and fired it at a charging varulf, piercing its heart and killing it instantly. He then handed his bow to Elisabet, at which time she awoke from the vision intent on forming a martial order of nuns to protect the Commonwealth's marches.
At first, the Papal Legate opposed Elisabet, but after several years of prayer and penance, her request was granted by Pope Hadrian IX. The first company of Bellicose Sisters established an abbey at Haguenau. Within a year, the nuns met a varulf company near the banks of La Moder. The bloodshed was horrific. Most of the nuns died, but the varulf company met with total annihilation. The order's fame spread, and young women rushed to join the Bellicose Sisters.
Today, the Bellicose Sisters command nearly a dozen fortified abbeys, and they number in the hundreds. Varulf packs still hunt the frontiers, but the ravaging packs that once threatened entire communities have been either destroyed or driven back into the savage wilderness beyond the Commonwealth's reach.
The stats below are for the Bellicose Sisters' rank-and-file. Senior nuns have more Hit Dice and cast Cleric spells.
Bellicose Sister of St. Sebastian: HD 2+2; AC 7 [12]; Atk 1 melee weapon (1d6), or 2 arrows (1d6); Move 12; Save 16; AL L; CL/XP 3/60; Special: +2 saving throws against paralysis and poisoned, blessed arrows
Blessed Arrows: Against the forces of Chaos, a Bellicose Sister's arrows are especially effective. Treat a Bellicose Sister's missiles as +1 arrows, modifying attack rolls and damage appropriately. Against Chaotic lycanthropes, a Bellicose Sister's arrows also inflict double damage.