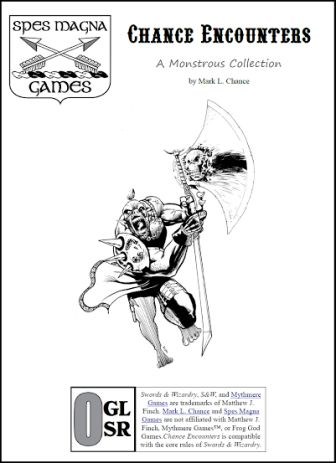 If you're not in the same virtual places I'm in on G+ and Facebook, you likely missed the posting of two creatures excerpted from Chance Encounters, my soon-to-be-released collection of fantastic creatures for Swords & Wizardry. You can take a gander at the bloody bones demon here and then find the ioun bug here. Chance Encounters includes these two monsters along with 24 others, each gloriously illustrated by stock art from some pretty talented artists.
What I'd really like is for some gimlet-eyed folks to read through my almost-final draft of Chance Encounters in order to provide me with constructive criticism. The task offers a very small amount of fame as well as a free copy of Chance Encounters when it goes live for sale. If you're interested, shoot an e-mail to mark at spesmagna dot com. I'm pushing to get Chance Encounters finished by about 25 September or so.
Speaking of finished products, I published for the excellent The Black Hack a collection of character classes entitled Clever Title Using Hack & Class. It's selling really well for something I've written, perhaps because it's currently on-sale for $0.50.
Indeed, everything I've published at DriveThruRPG is on-sale this month as I try to raise enough money to buy dice for a dozen or so students that will soon participate in Ludi Fabularum, the story-game club I've facilitated for the past few years at the school whereat I teach.
Last of all, if you're still playing AD&D, here's a link for a new monster, the shereriti, a horrid product of ghastly rituals to Lloth. Enjoy!