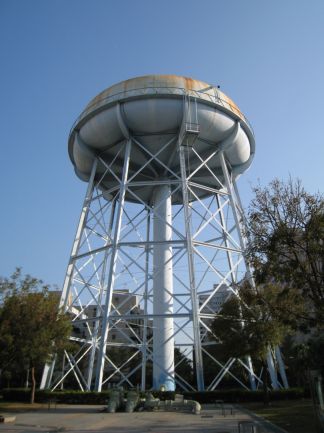 In life, her name was Annabella Jenkins. She was a student at New Falls High School, but she had few interactions with her peers during the school day due to her mental disability keeping her out of general education classes. Pretty and too trusting, Annabella desired very much to fit in, to have friends, to go to dances, and, above all, to have a boyfriend like Cindy Robinson had.
It was this latter desire that Cindy and some of her friends used to lure Annabella to the catwalk around the town's watertower. Everyone, even Annabella, for a time had fun. A few beers and a few cigarettes were shared. When things took a turn toward the ugly, it took most of the high schoolers a while to notice. Annabella was the last to notice, and by then she'd agreed to go swimming in the tower.
Frustrated, angry at herself, and too ashamed to admit that she was being made fun of, Annabella climbed the rest of the way to the top of the tower. One of the boys opened it, and Annabella jumped in. It proved a fatal mistake. Pretty and too trusting Annabella drowned. Of course, the death shocked and saddened the town, but shock and sadness were all the justice Annabella got.
The Girl in the Water Tower is a Scary Monster.
The Girl in the Water Tower is scary when it throws down its hair. It wants a real friend.
Fight 4
Grab 5
Chase 3
Scare 3
Qualities
It's a drowned teenage girl.
Its hair snakes, stretches, and entangles.
It can appear as it did in life.
It cannot be away from the watertower during the day.
Virtues
Health 40
Terror 8
Stuff
Climb Like a Spider ØØØ
* Scuttle Rapidly (Chase +2)
* Stick to Walls and Ceilings
Dangerous Hair ØØØ
* Entangling Mess (Move -1)
* Grab at a Distance
* Wield Weapons (Damage +1)
Weep Horribly ØØ
* Mind-Numbing Grief (Think -2)