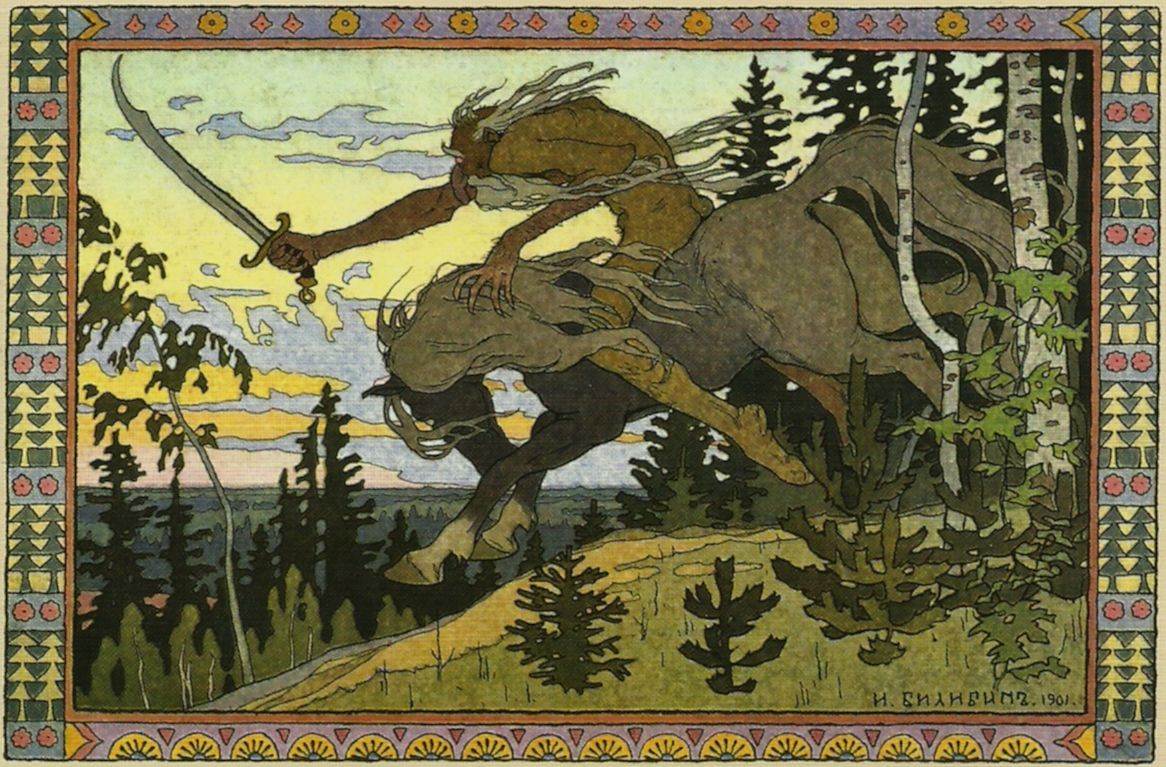 In my last post, I introduced Buyan, a magical island found in Slavic and Russian folktales and myths. Today, we meet Koschei the Deathless. If you'd like to read a tale featuring this villain, here's a link to a PDF of "The Death of Koschei the Deathless" taken from The Red Fairy Book by Andrew Lang.
So tall he towers over the tallest men, emaciated yet vigorous, unkempt hair and beard grown into ragged and long strands, completely naked. Koschei the Deathless, sorceror and kidnapper, lives in a decaying fortress lost within a rugged highland forest. From this lair, Koschei rides out mounted on his remarkable steed, one of Baba Yaga's magical horses given to Koschei by that monstrous witch. Koschei abducts women, especially the wives of aristocrats. He locks them up in his fortress's dungeons, guarded by frost giants and winter wolves, often for no reason other than to enjoy slaughtering those who come to rescue the ladies.
Only Koschei's deathlessness overshadows his legendary wrath and cruelty. In ages past, Koschei took his soul and hid it within a needle. He put the needle inside an egg. A duck carries this egg in its body, and, in turn, a white-furred hare holds within its body the duck. Koschei locked the hare inside a sturdy chest constructed from iron, crystal, and gold. He buried the chest beneath the roots of an oak tree that grows in Buyan's forested wilderness. As long as Koschei's soul remains protected, Koschei cannot die. No force mundane or magical can kill him.
Anyone fortunate enough to locate the oak tree, dig up the chest, and open the container must still contend with the hare, which then races away, seeking to evade capture. If pursuers catch and kill the hare, the duck bursts forth and flies away. Should the duck be caught and killed, the hunter can extract the egg and use it to control Koschei, who sickens and loses his great strength and his sorcerous powers. Cracking the egg open to get the needle breaks this control and restores Koschei's might, but breaking the needle instantly slays the villain.
Koschei's steed, which he addresses only with various insults such as "jade" and "nag", has magical powers. It gallops faster than any mortal horse, and it speaks several languages. It tracks victims for Koschei with its remarkable sense of smell, and no one has ever thrown the horse off their trail. Koschei also possesses at least one amazing magic item, a normal-seeming handkerchief which, when waved three times, transforms into a strong bridge long enough to span any river or chasm. Once Koschei crosses the bridge, it reverts to a handkerchief.
This link takes you to a PDF containing game stats for Koschei the Deathless, making this miscreant usable for Dungeon World, Fate Accelerated Edition, Mini Six Bare Bones Edition, and Swords & Wizardy. Koschei's stats for Barbarians of Lemuria appear below. Huzzah.
Koschei the Deathless
Attributes: Strength 4, Agility 0, Mind 3, Appeal 0; Brawl 2, Melee 3, Missile 2, Defence 0
Careers: Gaoler 2, Hunter 1, Scholar 1, Sorcerer 3
Lifeblood: 12
Protection: 0 (no armor)
Weapons: Scimitar d6+6
Special: Koschei is deathless as long as his needle is intact. He ignores all damage to Lifeblood.
Koschei's Horse
Attributes: Strength 3, Agility 1, Mind 2
Offence: Attack with hooves +2; d6 damage
Defence: 2
Protection: d3-1 (tough hide)
Lifeblood: 20
Special: Koschei's horse speaks several languages. Its swiftness is legendary. It can accurately track a target via scent.