Nota Bene: The accompanying photograph was taken by Dnalor_01 and is released under the CC-BY-SA 3.0 license. Source: Wikimedia Commons.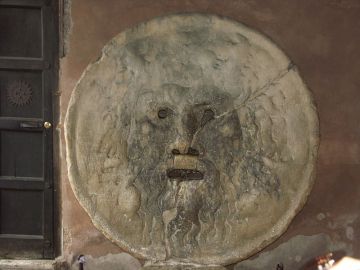 For Dungeon World
Carved from marble, cracked and worn after centuries of use and misuse, the Mouth of Truth currently rests against a wall in the portico of the sea god in a bustling, nearly lawless coastal trade center. The fog of history and legend obscures the Mouth's true origins, but it's powers are well and widely known.
If someone tells a lie while their hand the rests in the sculpture's mouth, the marble aperture slams shut, almost certainly crushing muscle and bone to pulp. Those about to embark on a voyage may also propitiate the Mouth and ask for an oracle about the journey.
When you propitiate the Mouth of Truth, spend 100 coins and roll +1 for every extra 100 coins spent. ✴On a 10+, choose 2. ✴On a 7–9, choose 1.
* The voyage will likely be less perilous. Take +1 forward when you undertake a perilous journey.
* You will meet a significant person during your journey.
* A beneficial opportunity will be encountered while traveling.
* An unexpected benefit waits at the journey's end.