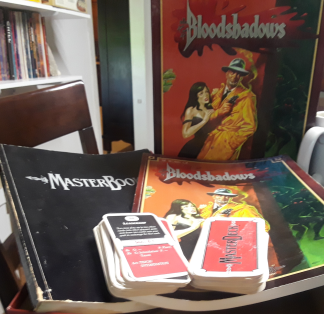 I continue to enjoy From Unformed Realms. This morning, I've gone deep into my collection and pulled out Bloodshadows by West End Games. I need to run a Dinner & Gaming night with this system.
Ophidian Sentinel
We smelled them before we saw them. Rico gagged, choking like something was caught in his throat. A stench like a backed-up septic tank choked the air. They slithered out of the darkness, thick black tongues flicking. Eyeless and seeking, they resembled thick-bodied serpents covered with knobby, overlapping scales the color of spoiled olives. Each one was longer than I am tall.
Agility 10
Climbing 13, Dodge 12, Stealth 12, Unarmed Combat (bite) 15
Dexterity 5
Missile Weapons (vomit) 7
Strength 7
Endurance 10
Toughness 10 (14 with armor)
Intellect 6
Perception (smell) 12, Tracking (by scent) 12
Mind 8
Confidence 8
Charisma 5
Ophidian sentinels, blind and single-minded, guard unholy sites. These monsters communicate with each other by means of scented secretions, most of which humans find highly offensive.
Natural Tools: Ophidian sentinels have dense scales and bones (armor value equals Toughness+4/14). They bite with strong jaws sporting dozens of sharp teeth (damage value equals Strength+3/10). These monsters also have the following abilities.
* Accelerated Healing: Gains a +3 bonus to all Endurance rolls when healing. Heals one shock per round.
* Euphoric Vomit: An ophidian sentinel may attack at range by expelling a gob of vomit. Treat as a throwing knife for ranges. A target struck by the gob must generate an Endurance or resist shock total equal to attack's power value (usually Endurance+10/20), modified by any result points of the attack. If the target fails, he is rendered senseless by the vomit's tranquilizing properties, and the target remains this way until he makes a successful Confidence or willpower total (one check per round).