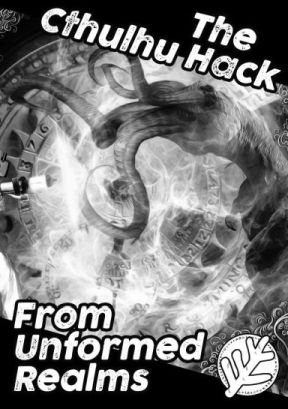 Have I mentioned how much fun From Unformed Realms is? Well, it is much fun, and it's system-neutral, which means with some thought it can be used for pretty much any game. For example, Barbarians of Lemuria:
Adventure Hook: A chance reunion with an old friend leads to some wooded hills in a frontier region. There the woods are currently being cleared by refugees seeking escape from the punishing taxes of their homeland, but the settlers' activities have attracted the attention of a murkling swarm.
Murkling
Its gray flesh hung in tatters, covered with gaping sores, glistening with moisture. It dropped from two legs to all fours, and we heard its bones snapping, shifting, adapting to this new form of locomotion. Before it resembled somewhat a man, somewhat an ape, but now it appeared more like a great, obscene rodent. Three more emerged from the burrows, their limbs jointed oddly, unevenly. Unthinkingly, I stepped away, just one step, but still a sufficient number to press my booted heel onto a dry twig. The closest monster jerked and hissed at the twig's popping, and the creature's entire body swelled up, its flesh distending, a cloud of dewy particles shaking into the air around it.
Attributes
Strength 0
Agility 2
Mind 0
Combat Abilities
Move 35 ft.
Attack Bite +0 (1d6-1 damage plus possible poison and infection)
Defense 2
Protection 0
Lifeblood 10
Nota Bene
Diseased: Murklings all carry a bizarre disease. A Hero bit by a murkling must make an Easy (+1) task check using Strength. Failure results in infection that sets in after 2d6 hours. The victim suffers joint pains and dizziness (increase Action Difficulty by one step). After 1d6 days post-infection, the victim loses control of one or more limbs, which seek to kill the victim (weilding weapons against him, running him off a cliff, et cetera).
Inflation: Murklings can inhale rapidly and inflate their extremely elastic lungs and stomachs, swelling to a spherical shape. This causes hundreds of short, sharp spikes to protrude from its skin as well as shakes loose of cloud of toxic sweat particles.
Mobility: Murklings move quickly and with agility despite their awkward appearance. They swim, climb, and burrow as well. Due to their adaptive skeletons, murklings can often squeeze through spaces smaller than one would expect.
Toxic Sweat: Heroes that come into contact with murkling sweat must make a Tricky (-1) task check using Strength. Failure results in poisoning. Every 1d3 minutes after exposure, the victim loses 1 point of Strength and Agility. Paralysis sets in when both abilities reduce to less than -1, and the paralysis lasts for days.