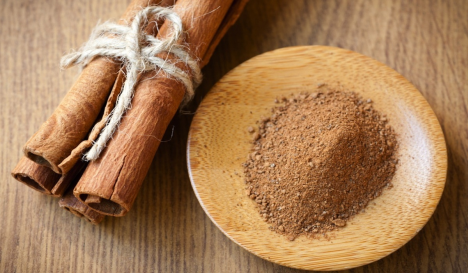 Since at least 20 centuries before the birth of Jesus of Nazareth, people have used cinnamon. It was a gift fit for a king or even a god. Its sources in places like India were carefully guarded secrets, and cinnamon growers exported this valuable spice via merchants who had no hand in the spice's growth and harvesting. Wikipedia claims that Herodotus wrote that cinnamon sources were guarded by winged serpents, but Wikipedia errs. It is frankincense that is guarded by winged serpents, as Herodotus makes clear by writing, "For the trees which bear the frankincense are guarded by winged serpents, small in size, and of varied colours, whereof vast numbers hang about every tree."
Herodotus notes that Arabian merchants cannot say where cinnamon comes from or from what tree the spice originates. "Where the wood grows, and what country produces it, they cannot tell". Herodotus relates that cinnamon's origin might be Phrygia. The cinnamon sticks are harvested only after large birds have used those sticks to make their nests. The nests "are fastened with a sort of mud to a sheer face of rock, where no foot of man is able to climb. So the Arabians, to get the cinnamon, use the following artifice. They cut all the oxen and asses and beasts of burden that die in their land into large pieces, which they carry with them into those regions". The merchants then "withdraw to a distance, and the old birds, swooping down, seize the pieces of meat and fly with them up to their nests; which, not being able to support the weight, break off and fall to the ground. Hereupon the Arabians return and collect the cinnamon, which is afterwards carried from Arabia into other countries."
So, to sum up, somewhere cinnamon trees grow. The location of those trees is a secret guarded by cinnamon growers. Cinnamon sticks are presumably cut and left to dry during the harvest season. At this time, large birds take the sticks to build nests on sheer cliffs. The middlemen cinnamon merchants lay out fresh meat beneath the cliffs. The large birds swoops down, carry the meat back to their nests, but the nests cannot support the meat's weight. The nests fall and break, and the merchants collect the cinnamon sticks.
No wonder cinnamon was so valuable!
Pliny the Elder says in The Natural History that cinnamon cost 10 denarii per pound, but that price is controlled by a single monarch who restricts the supply in order to inflate the price, which once caused cinnamon to sell for 1500 denarii per pound, although this extreme inflation may have been the work of barbarians who burned the cinnamon forests or due to "the south winds that prevail in these parts [that] are sometimes so hot as to set the forests on fire."
Fixing the relative value of ancient units of currency is tricky. During the period of the Roman Republic (approximately 509-27 B.C.), a legionary was paid about 0.3 to 0.6 denarius per day, but he probably had pay for his own food. In other words, using Pliny's lowball price for cinnamon, one pound of the spice would cost about a legionary's entire month's pay. The 1E DMG sets the salary for a heavy footman as 2 gp a month; therefore, a pound of cinnamon costs 2 gp, which is what the 5E PH sets the price at on the Trade Goods table.
Unfortunately, inflation has ruined the cinnamon market in 5E. Maintaining a modest lifestyle costs 2 gp per day, which is twice what an unskilled worker made per month in 1E. According to the 5E PH, soldiers are among those who live modest lifestyles. This means a soldier makes 60 gp per month, which is 30 times what he made in 1E. It only seems fair in keeping with cinnamon's history that the spice's price should increase as well. In 1E, a pound of cinnamon costs 2 gp. In 5E, due to edition inflation, that same pound of cinnamon costs 60 gp.
Also, about those birds: Here's the cinnamologus for you to use.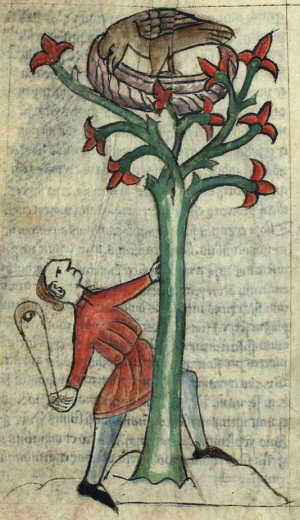 1E Stats
Frequency: Rare
No. Appearing: 2-12
Armor Class: 7
Move: 6″//24″
Hit Dice: 3
% in Lair: 75%
Treasure Type: Nil
No. of Attacks: 3
Damage/Attack: 1-4/1-4/2-8
Special Attacks: Dive attack
Special Defenses: Eyesight
Magic Resistance: Standard
Intelligence: Animal
Alignment: Neutral
Size: M (4′ tall, 12′ wingspan)
Psionic Ability: Nil
Attack/Defens Modes: Nil
Level/XP Value: III/65 XP + 3 XP/hp
Cinnamologi build their nests out of cinnanom sticks, adhering these nests to cliff walls with a mixture of mud and grass. Their eyesight is such that they are never surprised unless encountered in their lair or at night. If they attack by diving 50 or more feet, they add +4 to hit probability, do double claw damage (2-8/2-8), but get no beak attack. They can carry up to 1000 gold pieces at half speed.
Cinnamologi are aggressive raptors that prey on a variety of animals smaller than they. These birds also scavenge carrion. If a nest holds young (25%) or eggs (50%), cinnamologi attack any creature that approaches too close. There will be 1-4 young or eggs per nest, and one nest per pair of cinnamologi. The nest of cinnamologus weighs about 500 pounds, and roughly half of that weight is cinnamon sticks.
5E Stats
Medium beast, unaligned
Armor Class 13
Hit Points 55 (10d8+10)
Speed 15 ft., fly 60 ft.
Ability Scores STR 12 (+1), DEX 17 (+3), CON 12 (+1), INT 2 (-4), WIS 14 (+2), CHA 8 (-1)
Skills Perception +4
Senses passive Perception 14
Languages —
Challenge 1 (200 XP)
Keen Sight: The cinnamologus has advantage of Wisdom (Perception) checks that rely on sight.
Dive: If the cinnamologus moves at least 50 ft. in a straight line toward a target and then hits it with its talons attack on the same turn, the target takes an extra 8 (2d6+1) slashing damage. If the target is a creature not larger than the cinnamologus, the target must succeed on a DC 13 Strength saving throw or be knocked prone.
Actions
* Multiattack: The cinnamologus makes two attacks: one with its talons and one with its beak.
* Talons: Melee Weapon Attack: +3 to hit, reach 5 ft., one target. Hit: 8 (2d6+1) slashing damage.
* Beak: Melee Weapon Attack: +3 to hit, reach 5 ft., one target. Hit: 5 (1d8+1) slashing damage.