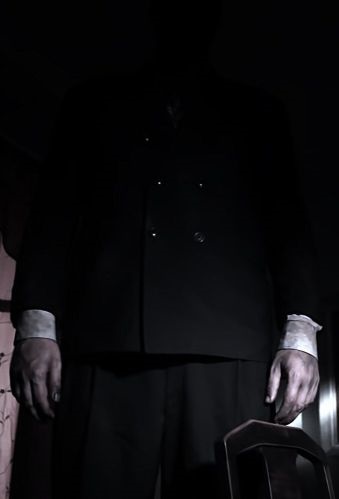 Still at home due to Hurricane Harvey. I report back to work this coming Tuesday. One hurricane homebound activity included watching Tall Men, a 2016 slow-paced psychological thriller starring Dan Crisafulli as Terrence Mackleby and Kay Whitney as Lucy, Terrence's sort-of girlfriend. It's not a bad movie. Quirky in a way reminiscent of David Lynch. To keep it brief, after Terrence declares bankruptcy, he applies for the Card, impressed by its low interest rate and his compulsion toward debt. Terrence buys a new car, and then his first bill comes due. He can't pay, and it turns out not reading the fine print has some pretty serious consequences, enforced by the movie's eponymous tall men.
Here is a version of the tall men for The Cthulhu Hack.
Tall Men
Hit Dice: 2
Nota Bene: Tall men, some sort of lesser servitor race perhaps, appear very much as one would expect. Dressed in suits, always somewhat disheveled and often stained by dirt, these creatures stand at least seven feet tall, but their height seems to vary, as if they can grow taller at will. Their faces are never clearly seen, either obscured by shadows or else wrapped tightly in gray cloth. They never speak. Tall men are remarkably strong. Strength saves against tall men are made with disadvantage. Tall men are not particularly fast, but they move with stealth (Wisdom saves to notice them are made with disadvantage), and these creatures can somehow disappear and reappear as long as they are not viewed directly.