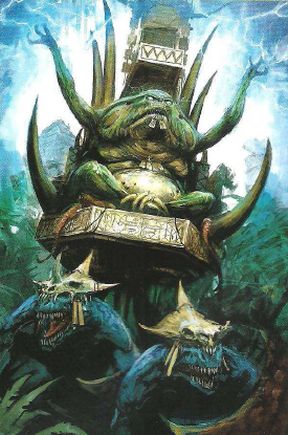 In distant, savage jungle lands, the mighty slanns sit upon their floating thrones, deeply meditating upon schemes to reconquer lands that centuries ago suffered under the crushing fists of their forebears. A slann resembles a bloated combination of frog and humanoid of prodigious size and weight. Sluggish and clumsy, slanns possess formidable magical powers. While strong enough to inflict punishing wounds with a strike, a slann prefers to project out to 60 feet destructive blasts of energy (lightning, fire, or cold) or else attack with spells. Every slann is a mage-priest that casts spells as both a 6th-level Cleric and a 6th-level Magic-User. The slanns are the absolute rulers of the lizardmen.
Slann
Armor Class: 2 [17]
Hit Dice: 12
Attacks: Strike (1d6+1) or blast (2d6)
Special: Magical blasts, spells
Move: 6/18 (when flying)
Save: 7
HDE/XP: 14/2,600
Lizardmen, or saurus as they call themselves, are reptilian humanoids who live in savage jungle lands, slavishly serving their slann masters. The saurus have a rigid caste society, with the mighty slann at the top, followed by priests, warriors, and then hunters. Much servile labor is performed by captured slaves of various warm-blooded races, for the cruel gods of the lizardmen prefer for their altars to be drenched with gore from "soft-skins". The stats below represent a common lizardman of the hunter caste.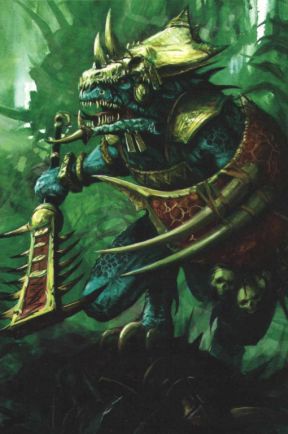 Lizardman
Armor Class: 5 [14]
Hit Dice: 2+1
Attacks: Claw or weapon
Move: 6/12 (when swimming)
Save: 17
HDE/XP: 2/30
The warrior of lizardmen, fierce in battle and arrogantly cruel, these monsters stand taller and broader than their social lessers. They act largely as temple guards, protecting the priests and keeping lesser beings away from their slann ruler. In times of war, the temple guards surround the slann's flying throne, seeking to slaughter all in their path who oppose their master's will.
Temple Guard
Armor Class: 4 [15]
Hit Dice: 4+1
Attacks: Claw or weapon (1d6+1)
Move: 9/12 (when swimming)
Save: 15
HDE/XP: 4/120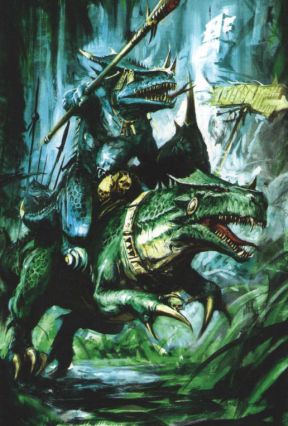 Lizardmen priests ruthlessly enforce the will of the slann master. Their chief duty is to fill the air with screams and drench the altars with the blood of "soft-skins". Priests cast spells as 3rd-level Clerics and 3rd-level Magic-Users. They often ride cold ones, horse-sized lizards with a taste for warm blood.
Priest
Armor Class: 3 [16]
Hit Dice: 6+1
Attacks: Claw or weapon
Special:: Spells
Move: 6/12 (when swimming)
Save: 13
HDE/XP: 7/600
Cold One
Armor Class: 5 [14]
Hit Dice: 3
Attacks: Bite
Move: 12/12 (when swimming)
Save: 16
HDE/XP: 3/60
There are two types of lizardmen that occupy the lowest rungs of the caste, but still provide vital services to their slann master. These are the skinks and the kroxigors. Skinks are slend, smooth-skinned reptilians of small size and great stealth. They serve the slann as scouts and spies.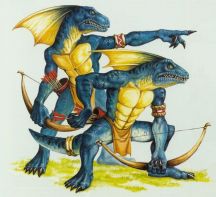 Skink
Armor Class: 6 [13]
Hit Dice: 1+1
Attacks: Claw or weapon
Special:: Camoflauge, surprise others on 1-4
Move: 12/9 (when climbing)
Save: 18
HDE/XP: 2/30
The kroxigors are giant, primitive lizardmen. Dimly intelligent and extraordinarily savage, kroxigors act as shock troops, often herded into position by skink units before being unleashed upon a slann's enemies.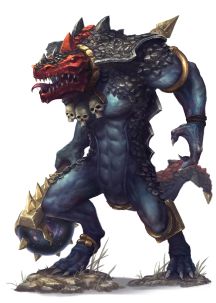 Kroxigor
Armor Class: 4 [15]
Hit Dice: 8+1
Attacks: Claw or weapon (2d6)
Move: 12/6 (when swimming)
Save: 11
HDE/XP: 8/800