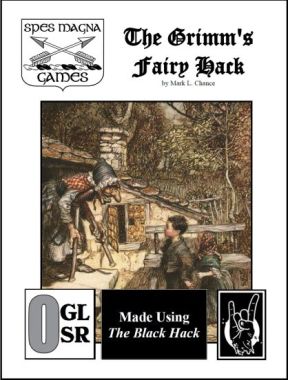 Some time ago, I toyed with the idea of an OSR system for playing children transported into a fantasy realm. I abandoned the idea. It just seemed like a whole lot of work, and I couldn't really keep excited about it. I've recently returned to the idea using a much more user-friendly system, specifically The Black Hack, about which I've written here before.
Thus, I've started work on The Grimm's Fairy Hack.
In this "based on The Black Hack" game, the players take on the roles of children from our real world. In addition to The Black Hack, I'm also referring to Grimm Lite and Horizon: Grimm. The character classes are based on childhood archetypes/stereotypes. Players choose from six character classes: Bully, Dreamer, Jock, Nerd, Normal, Outcast, and Popular. Each class has certain special abilities and a special weakness.
Since the characters are children, they do not have Stats like regular fantasy characters. No STR, DEX, CON, et cetera to be found here. Rather that the familiar six made famous by Dungeons & Dragons, characters have seven Stats, each one defining a particular facet of the character's childhood:
Academics: Covers arithmetic, reading, writing, et cetera. In short, Academics reflects how good a student the character was.
Explorer: Covers survival, first aid, reading a map, et cetera. Explorer includes the sorts of things one might learn in the Boy Scouts.
Hick: Covers rural life. A character with a good Hick stat would know how to milk a cow, dig fence post holes, cook, et cetera.
Lore: Covers knowledge of myths, legends, and fairy tales. Where Academics is knowledge of the real world, Lore is knowledge of the fantasy world.
Shenanigans: Covers lying, stealing, being sneaky, et cetera. A character with a high Shenanigans Stat is good at making trouble and getting away with it.
Upbringing: Covers being polite, fitting in with adults, knowing the right thing to do, et cetera.
Zip: Covers strength, dexterity, toughness, athletics, et cetera. Children lack real experience and training in actual combat, but Zip helps them attack and avoid getting hurt.
The success mechanic from The Black Hack remains. For a character to succeed with an action, the player must roll under the character's relevant Stat on 1d20.
All characters also have a special ability called Imagination. Imagination is not a Stat, but instead is a power governed by a Usage Die, the size of which varies depending on character class. Thus, a Dreamer has more Imagination than a Bully. As a character improves in level, his Imagination becomes stronger. Imagination powers a class's special abilities. Also, Imagination lets a character manipulate the fantasy world in a variety of different ways, so long as the character doesn't violate two simple rules:
1. Imagination cannot be used to directly damage or destroy anything.
2. Imagination cannot be used to copy the special abilities of another class.
Of course, all of this is just a brief overview; it's not comprehensive. The Grimm's Fairy Hack will eventually include all of this and more. Some of the more will almost certainly be advice for using The Grimm's Fairy Hack characters and The Black Hack characters at the same time. The former is based on the latter, and there ought to be little in either set of rules that makes mixing them impossible.