As I've mentioned, I'm taking advantage of my summer vacation to get some much-delayed writing done. One of those project is Aquatic Depths & Denizens, which focuses on adventuring underwater for Swords & Wizardry. You can download the playtest version of the PDF at the link in the previous sentence.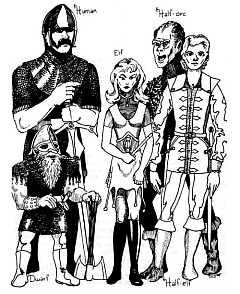 As I was working on the PDF, I just knew I had to have a group picture showing the five new races standing next to each other, just like the 1E Player's Handbook had (and which I've displayed to the right). Unfortunately, a picture that included a Merman, a Naiad, a Triton, a Bahar, and an Aquatic Elf wasn't the sort of the thing I'd be able to find laying around in the public domain. This meant hiring an artist, which is something that my tiny budget doesn't let me do a lot of. So, I mulled.
While mulling, I read through MurderHobos from Brent P. Newhall's Musaeum. (Mini-review: MurderHobos is exactly what it says it is, namely "a simple OSR game that hews closely to d20 mechanics. The stats are silly, but they do make a playable game.") I noticed the interior art had a certain, rugged Old School fantasy gaming vibe to it, so I checked the artist.
Turns out the artist is a fellow named Peter Seckler, who just happens to be one of the many people I've never met with whom I am friends on Facebook. A few messages later a deal was made, and a few days later I had the picture I needed: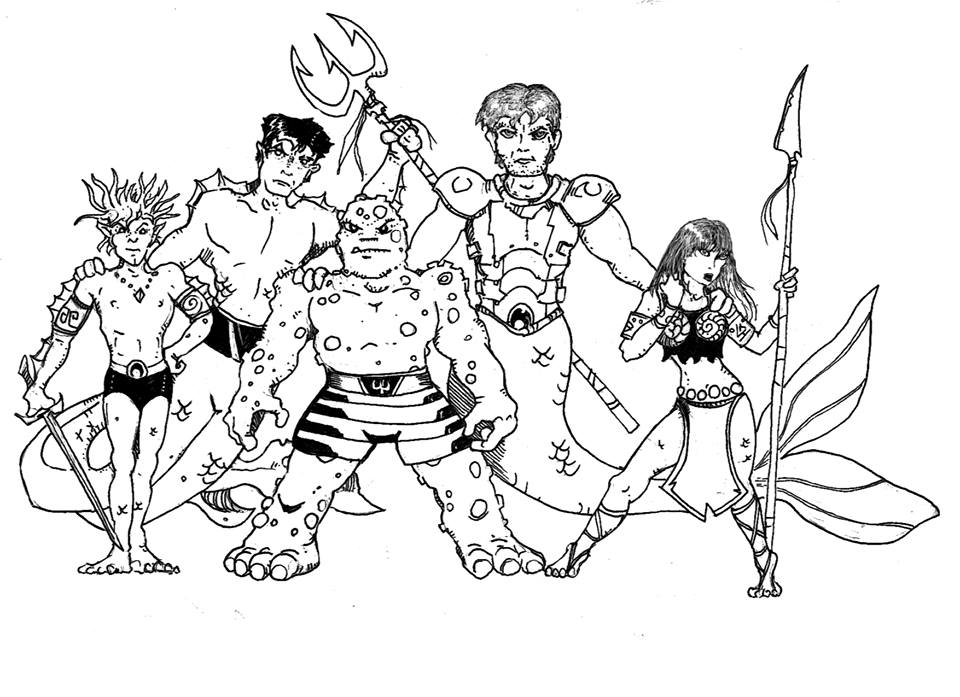 From left to right: Aquatic Elf, Triton, Bahar, Merman, Naiad.