More work has been done on Chance Encounters, a growing collection of new monsters for Swords & Wizardry. Here's another sample: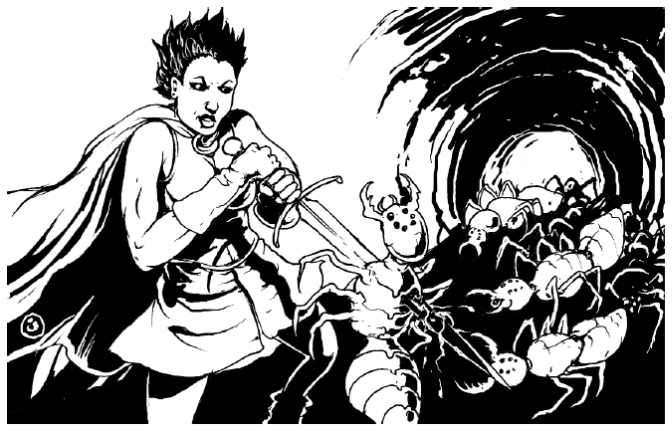 At first blush, zymotic ants appear to be a common variety of giant ant, but closer observation shows otherwise. Zymotic ants not only have powerful mandibles, but their abdomens sport sharp stingers. Worker zymotic ants "harvest" living creatures, overwhelming them by sheer numbers and dragging the unconscious and dead back to the hive's incubation chambers. Therein, the toxic pathogens injected via stinger are cultivated, for these horrible insects feed primarily on the effluvia of illness. The unquestioned ruler of a zymotic ant hive is its huge queen. Bloated and slow, the queen commands the hive via telepathy. Once per day, her telepathic energies act as an Animate Dead spell, summoning 2d6 zombies. One in 20 of these undead monsters cause disease with their attacks.
Hit Dice: 2 (worker), 3 (soldier), or 10 (queen)
Armor Class: 3 [16]
Attack (Damage): Bite (1d6), sting (1d4 + disease)
Move: 18, 15, or 3
Save: 16, 14, or 5
Alignment: Neutrality
Challenge Level/XP: 3/60 (worker), 4/120 (soldier), or 12/2000 (queen)
Special: Cause disease, immune to disease and poison, queen abilities (Animate Dead and telepathy)
As you've seen if you've been paying attention, I've also been tooling about with new character classes for The Black Hack. I'm thinking of compiling them into a PDF, either for sale or for free (or both via DriveThruRPG's pay-what-you-want option). One of the aspects of The Black Hack approach to character classes is how easy it is to make a class that fills a specific campaign niche. Say, for example, your campaign features downtrodden goblin anarchists who fight the power….
Goblin Bomb-Lobber
Starting HP: d8 + 4
HP Per Level/Resting: 1d8
Weapons & Armor: Any and All
Attack Damage: 1d8 Bombs / 1d4 All Others
Special Features
A Goblin Bomb-Lobber makes his own bombs, producing several each day from available materials. He has a d4 Bomb Usage die. A bomb may be thrown to affect 1d4 Nearby creatures, each one taking damage from the explosion.
A Goblin Bomb-Lobber rolls with Advantage when working with explosives and chemicals, to include avoiding the effects of things that blow up.
Due to his revolutionary beliefs, a Goblin Bomb-Lobber rolls with Advantage when testing CHA during interactions with radicals, chaotic beings, et cetera. He suffers Disadvantage to the same sorts of tests when dealing with law-abiders.
Leveling Up
Roll to see if attributes increase. Roll twice for DEX and CHA.
Every odd numbered level, step up the Bomb die as well as the number of Nearby creatures a bomb may affect.