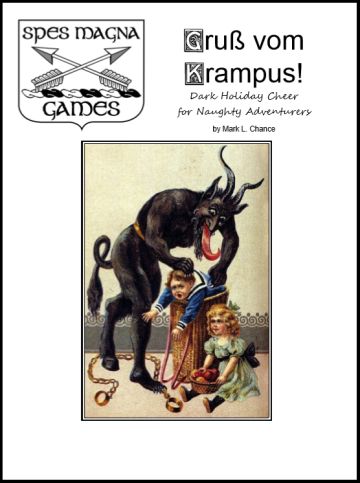 It's been a busy time around here lately, what with school before the holidays, me trying to get some long-delayed projects done, family stuff, et cetera. Just to keep you in the loop, here's a quick update.
I put together a two-page PDF with links for discounted-for-the-holidays Spes Magna products. You can get this special by clicking this sentence.
For you GMs who are tired of naughty adventurers, I offer the Krampus for four game systems. Stuff those awful murderhobos in Krampus's wicker basket and bake them into sinfully tasty meat pies. Your campaign world will be a happier place. Gruß vom Krampus! includes four short PDFs, each one providing game statistics for Krampus for four different game systems: Dungeon World, Fate Accelerated Edition, the Pathfinder Roleplaying Game, and Swords & Wizardry. You can get your Krampus fun at either DriveThruRPG or Paizo.com.
After a delay of about a year, I've finally finished Astounding Archetypes: Bloodhand Gang. This supplement for the Pathfinder Roleplaying Game presents five new archetypes for use with the Pathfinder Roleplaying Game. Players may adventure as a dragon warrior (fighter archetype), jotunkin (barbarian archetype), telekinetic monk (monk archetype), warp thief (rogue archetype), and yo-yo magus (magus archetype).
If you're a GM, unleash the Bloodhand Gang on your players' characters. Each villainous member of the mercenary Bloodhand Gang is a fully detailed NPC. The Gang utilizes all five new archetypes. Bloodhand Gang members run from CR 7 to CR 10 and equal an EL 14 challenge.
Astounding Archetypes: Bloodhand Gang is currently available at DriveThruRPG. It should be live at Paizo.com soon.
If you'd like to pick up Gruß vom Krampus! and/or Astounding Archetypes: Bloodhand Gang at a discounted price from DriveThruRPG, you can use this code (for the former) or this code (for the latter).