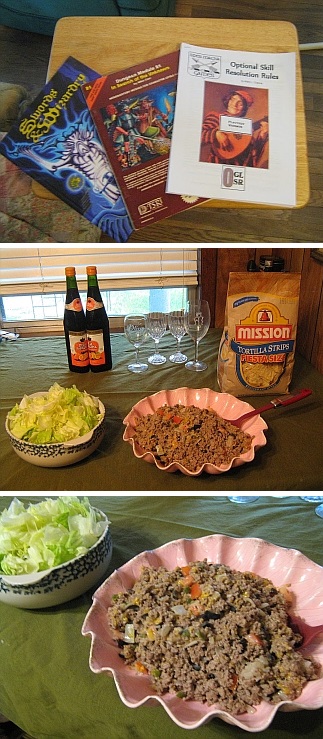 I decided to start hosting Dinner & Gaming nights again, doing so once a month. I like to game. I like to cook. (I even considered going to a culinary arts school until I figured out I have anosmia.) So, I fixed taco salad, got a couple bottles of sangria, and broke out the Swords & Wizardry, In Search of the Unknown, and a couple copies of my WIP Optional Skill Resolution Rules.
With only two players in attendance, I was flexible with class and race combinations. Alex made up Brother Zaphod, an Elf Cleric/Magic-User who had been raised by weasels in the woods. I imagine them to have been giant weasels. Christopher made up Weeble Kneecracker, a Halfling Fighter/Thief who is also a skilled chef and a pariah from polite Halfling society. This stalwart pair of rookie heroes hired two men-at-arms and a torchbearer: Maximilio, Baldrick, and Leofrick.
The party traveled north into the hilly woodlands between the frontier village and the realm of the hated barbarians. After some traveling and searching, they found the entrance to Quasqueton. Weeble picked the lock on the door, and the group moved into the hallway beyond. They were startled by magical mouths that pronounced a grim warning.
Weeble crept forward, searching for traps. He determined there were none, but his intense concentration led to him being surprised by a pair of ghouls. Weeble was clawed and paralyzed.
The hirelings and Brother Zaphod battled the ghouls, killing them. Brother Zaphod suffered a moderate injury in the process.
Skill checks using my OSR2 system were made to convince the hirelings to work for free in exchange for spiritual betterment, to open the locked door, to search for traps, and to determine the weaknesses of ghouls. Based on this brief session of actual gaming, I think the system works pretty well, although I did leave out one detail regarding the characters' starting skills, which I'll have to amend next time we play S&W.