Over in the OSR Google group, Iacopo Maffi suggested folks create an OSR Christmas calendar. He also suggested a specific theme for each day. Here's my first day, presented in both 1E and 5E flavors.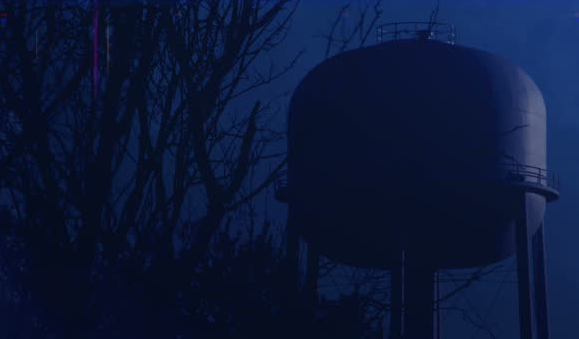 In the woods not too far from the village? Strange happenings. Animals are more skittish, and no one has heard birdsong for at least a fortnight. Nights seem darker, colder. Animals are more skittish, and no one has heard birdsong for at least a fortnight. On the nights of the full moon, an impossible metal tower rises among the trees. A monstrous women dwells in the tower. What does she look like? Who knows? We know she's there. Everyone has heard her hellish screams echoing in the tower's bulbous superstructure. Those brave enough to approach the tower during the night when the moon is full have heard pounding and scratching, trying to break free. What are we doing about it? We're farmers and herders. What can we but wait?
Rapunzhel is the tormented revenant of a young woman drowned in a water tower due to a cruel prank perpetrated by several of her classmates in the 1960s in a small town in southern Georgia. The water tower became unmoored from any specific reality, and now it shifts from world to world, seemingly at random. The tower always appears near a rural community of modest size. It remains for several months, but only becomes visible and material during the nights of the full moon. Most nights, Rapunzhel remains trapped in the tower, raging against her fate and her captivity. She always manages to escape, however, and, driven by her mad rage, she fills the night with blood and horror. When dawn breaks after her rampage, she and the tower vanish, shifting to another world.
Rapunzhel is a water-bloated corpse, moist and rotting. Her white hair writhes and flails, twisting and stretching and seeking. Her weeping eyes blaze with feral hatred.
1E Stats
Frequency: Very rare (unique?)
No. Appearing: 1
Armor Class: 5
Move: 15″//15″
Hit Dice: 8
% in Lair: 90%
Treasure Type: Nil
No. of Attacks: 2 + special
Damage/Attack: 1-6/1-6 + special
Special Attacks: Entangle
Special Defenses: See below
Magic Resistance: Standard
Intelligence: Average
Alignment: Neutral evil
Size: M (5-1/2′ tall)
Psionic Ability: Nil
Attack/Defens Modes: Nil
Level/XP Value: VII/1,075 XP + 10 XP/hp
Rapunzhel attacks with her talons and her wildly flailing hair has grown to impossible lengths in her undeath. Her hair attacks up to 1d4 medium-sized targets within 10 feet. A small-sized target counts as 1/2 a target, and a large-sized target counts as two targets, et cetera. Targets struck by her hair must make a saving throw versus paralyzation or become entangled in a mass of squirming, constricting hair. One per round on its turn, an entangled target may attempt to escape the hair by making a successful bend bars/lift gates check; otherwise, the target takes 1d4 points of damage from constriction. A creature not entangled in hair may use an edged weapon to cut the hair, which is AC 5 and takes 8 hit points to cut through; all hit points must be inflicted by same creature.
Rapunzhel cannot be harmed by nonmagical weapons. Once per round, when she is missed by a melee attack, Rapunzhel may immediately teleport without error to another spot she can see that is no farther than 9″ away. Being undead, she is immune to sleep, charm, poison, and effects that require a living target. She swims quickly and easily, and she has no need to breathe. Rapunzhel can be turned as if she were a vampire.
5E Stats
Medium undead, neutral evil
Armor Class 15 (natural armor)
Hit Points 127 (15d8+60)
Speed 40 ft., swim 40 ft.
Ability Scores STR 18 (+4), DEX 16 (+3), CON 18 (+4), INT 10 (+0), WIS 15 (+2), CHA 13 (+1)
Saving Throws Dex +6, Wis +5
Damage Immunities necrotic, poison; bludgeoning, piercing, and slashing from nonmagical attacks
Condition Immunities charmed, exhaustion, frightened, poison
Senses darkvision 90 ft., passive Perception 12
Languages English
Challenge 7 (2,900 XP)
Actions
* Multiattack: Rapunzhel makes three attacks: twice with her claws and once with her hair.
* Claws: Melee Weapon Attack: +7 to hit, reach 5 ft., one target. Hit: 7 (1d6+4) slashing damage and 7 (2d6) necrotic damage.
* Hair: Melee Weapon Attack: +7 to hit, reach 10 ft., one target. Hit: 9 (2d4+4) bludgeoning damage, and the target is grappled (escape DC 15). Until this grapple ends, the creature is restrained. Rapunzhel's hair continues to constrict each grappled target once per round at the end of Rapunzhel's turn for 1 minute or until the target escapes.
Reactions
* Defensive Teleport: Once per round, when a creature misses Rapunzhel with a melee attack, Rapunzhel may teleport up to 20 ft. as a reaction, doing so at the end of the turn of the creature that triggered this ability.