And the Lord opened the mouth of the ass, and she said unto Balaam, "What have I done unto thee, that thou hast smitten me these three times?" And Balaam said unto the ass, "Because thou hast mocked me: I would there were a sword in mine hand, for now would I kill thee." And the ass said unto Balaam, "Am not I thine ass, upon which thou hast ridden ever since I was thine unto this day? Was I ever wont to do so unto thee?" And he said, "Nay." Then the Lord opened the eyes of Balaam, and he saw the angel of the Lord standing in the way, and his sword drawn in his hand: and he bowed down his head, and fell flat on his face. (Numbers 22:28-31)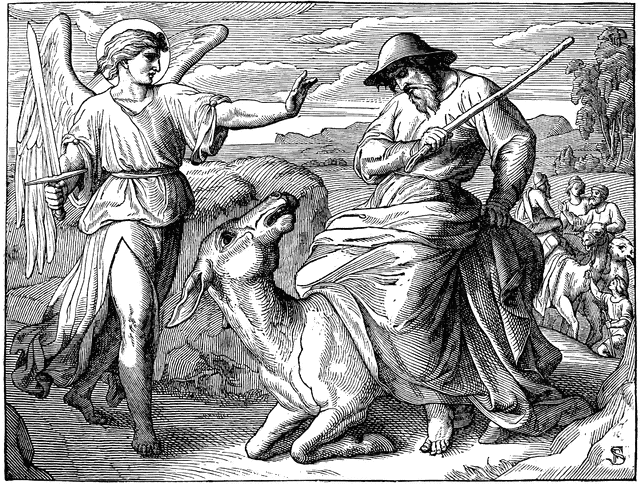 Balaam's Ass
CR 2; XP 600
NG Medium outsider (native)
Init +2; Senses darkvision 60 ft., low-light vision, scent; Perception +5
DEFENSE
AC 13, touch 12, flat-footed 11 (+2 Dex, +1 natural)
hp 30 (4d8+12)
Fort +7, Ref +6, Will +3; +4 racial bonus vs. poison
DR 5/magic; Resist acid 10, cold 10, electricity 10; SR 13
OFFENSE
Speed 40 ft., fly 80 ft. (good)
Melee 2 hooves +0 (1d3+1)
Special Attacks smite evil (2/day)
Spell Abilities (CL 4th; concentration +6)
3/day – protection from evil
1/day – aid, bless, detect evil
TACTICS
Balaam's Ass prefers to avoid combat. It lacks the proper training, and its gentle disposition makes the idea of shedding blood unpleasant. As such, it prefer to rely on its skills, spell-like abilities, and common sense. If forced to fight, Balaam's Ass seeks to flee. If it cannot flee, it will fight with its hooves as well as it can.
STATISTICS
Str 15, Dex 15, Con 16, Int 16, Wis 15, Cha 10
Base Atk +3; CMB +5; CMD 17 (21 vs. trip)
Feats Endurance, Persuasive, Run (B)
Skills Acrobatics +4 (+12 for running jumps), Diplomacy +6, Fly +13, Knowledge (nature) +7, Intimidate +2, Knowledge (planes) +7, Knowledge (religion) +7, Perception +9, Sense Motive +6, Stealth +9, Survival +6; Racial Modifier +4 Acrobatics for jumping
Languages Abyssal, Common, Celestial, Infernal
SPECIAL ABILITIES
Docile (Ex): Balaam's Ass has no specific training for combat. Its hooves are treated as secondary attacks.
Smite Evil (Su): As a swift action, Balaam's Ass can smite evil twice per day as a 4th-level paladin. The smite persists until target is dead or Balaam's Ass rests.
Nota Bene I used stats for the pony, applied adjustments as per the awaken spell, and then tacked on the half-celestial template. I tweaked things a bit here and there just because.