Another trip through From Unformed Realms, this time aiming to create a Lovecraftian horror for use with Swords & Wizardry!
Its leathery flesh, covered with finger-length spines, sharp and dark, glowed faintly from deep cracks and pocks, as if some internal fire guttered just beneath its skin. It walked upright, like a man, but balanced itself by means of a sinuous tail that ended with a knobby clump of something like bone. Where arms should have grown from its shoulders extended writhing, muscular pseudopods, growing and retracting, seeking to touch, to grasp…to burn!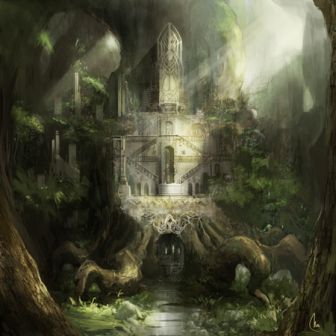 Mephitic Horror
Hit Dice: 5+5
Armor Class: 4 [15]
Attack (Damage): 2 pseudopods (1d4)
Move: 9
Save: 12
Alignment: Chaos
Challenge Level/XP: 8/800
Special: Constrict and burn, immune to fire, spittle, toxic bile
Mephitic horrors are a sort of evil elemental that serve unholy entities that seek to return to the Material World in order to terrorize, enslave, and devour. In melee, mephitic horrors attack with their pseudopods. A creature struck by a pseudopod is ensnared to be crushed and burned, which causes an additional 1d6 points of damage per round the victim remains grasped. Instead of a pseudopod attack, mephitic horrors may spit up to twice per round (once per pseudopod attack not made). This spittle has a range of 30 feet. If it hits, the target suffers 1d4 points of damage as the spittle burns. The target must also make a saving throw to avoid being blinded for 1d6 rounds. A mephitic horror that takes more than 5 points of damage from a single attack involuntarily coughs up a gout of toxic bile. Creatures in melee combat with the mephitic horror when it regurgitates must make saving throws to avoid being splashed. The ghastly bile quickly worms its way into flesh. Those exposed to the toxic bile (meaning those that failed their saving throws) develop painful, aggressive tumors after 2d6 days (a Cure Disease suffices to overcome this malady, the exact effects of which are left to the Referee's discretion).
Adventure Hook: The discovery of an intriguing artifact leads to a long-abandoned fort controlled by bandits for nearly three months. The bandits stumbled across the fort while trying to evade the authorities. One or more mephitic horrors prey on the bandits, seeking to slaughter them all.