I recently acquired several Paul Baldowski's The Cthulhu Hack products-in-print via All Rolled Up. One of these products is From Unformed Realms. According to the introduction, this 20-page booklet is a "system-free supplement for a Gamemaster running games involving creatures of alien horror for role-playing games of all genres, fantastical or horrific". The author suggests rolling 3d6 six times "to generate a customized aggressive horror".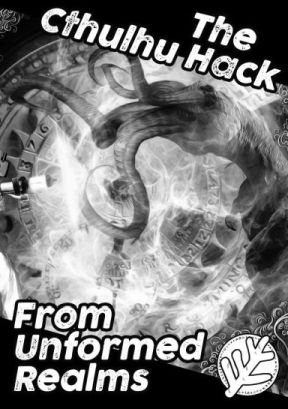 Each set of 3d6 determines a category, subcategory, and specific trait. There are six categories, such as Extremities or Fluids. Each category included at least three subcategories, and each subcategory includes six specific traits. That's quite a lot of variety, and it looks like fun, so let's play. I get 3d6, one black, one purple, and one red, and I roll them six times each, recording the results in the color order already mentioned. I get these results:
3, 4, 4: Skeleton, Bone Mutations, Blades
5, 6, 6: Appearance, That Looks Like, Ooze
1, 4, 2: Extremities, Weapons, Pincers
5, 3, 5: Appearance, Protuberances, Digestion
2, 6, 4: Senses, Vision, Compound
1, 2, 4: Extremities, Limbs, Spines
In other words, something like this:
Before our horrified eyes, the blasphemous thing lurched forward, glistening wetly in the moonlight. Shadows of bones rolled within its amorphous bulk, translucent and fetid, and some of those skeletal remnants slid from within, hooked and sharp and some clacking like monstrous pincers. Globular compound eyes bobbed within its body, pressing toward air. Even in the dim lunar glow, we could see half-digested remains: a dog, several rats, and — God help us! — a man's arm!
Turning to The Cthulhu Hack core rules, I put together some quick monster stats:
Hit Dice: 5
Nota Bene: The gelatinous horror moves stealthily (roll with Disadvantage to hear it before it's too late), and its fluid form is difficult to grapple (also roll with Disadvantage). It is impervious to flame or heat. Its compound eyes see in nearly all directions at once. It attacks 1d4 times per Moment, and each attack inflicts 1d4 points of damage.
After From Unformed Realms describes the various traits by category and subcategory, there is a single page "Summary of Traits" followed by two pages of "The Obligatory Appendix". The latter provides tables that answer questions such as "The Hook?", "Location?", and "Horror's Motivation?", and with a few more dice rolls I determine the gist of an investigation into madness and death. Bolded parts of the following sentence indicate the results of dice rolls.
A chance visitation leads to a boot camp that has been a cover for anarchists for nearly two years for the purpose of medical research. The boot camp has become the target of the horror because the camp is built on the monster's food source.
And there you go. In a fraction of the time than it took me to type, format, and edit this blogpost, I've got the framework for an investigation that pits the players' characters against secretive, Mengele-like anarchists unaware that a Horror from Beyond lurks at their doorstep.
Excellent.