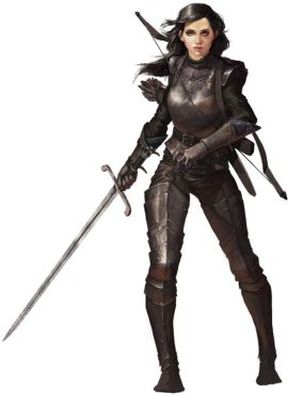 For I hear many whispering. Terror is on every side! "Denounce him! Let us denounce him!" say all my familiar friends, watching for my fall. "Perhaps he will be deceived, then we can overcome him, and take our revenge on him." But the Lord is with me as a dread warrior; therefore my persecutors will stumble, they will not overcome me. (Jeremiah 20:10-11)
The Dread Warrior fights to defend holy causes against infidels, scoffers, blasphemers, and other evil-doers. He lacks the raw power and martial skill of the Warrior, but his righteous devotion grants him the ability to inspire dread in those he faces.
Dread Warrior
Starting HP: d8 + 4
HP Per Level/Resting: 1d8
Weapons & Armor: Any and All
Attack Damage: 1d8 / 1d4 Unarmed or Improvising
Special Features
Once per hour while in combat, a Dread Warrior can regain 1d6 lost HP.
When confronting evil-doers opposed to the Dread Warrior's holy cause, the Dread Warrior inspires fear using his Dreadful Mien Usage Die, which starts at a d4 at 1st level. This fear affects a number of Hit Dice of enemies equal to the die's roll plus the Dread Warrior's level. For the next few minutes, the Dread Warrior rolls with Advantage against those foes.
The Dread Warrior rolls with Advantage when resisting effects that affect his emotions or loyalties.
Leveling Up
Roll to see if attributes increase. Roll twice for STR and CHA.
Every odd numbered level, step up the Dreadful Mien die.