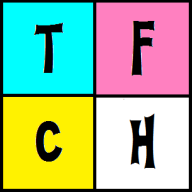 I've uploaded an edited version of The Four Color Hack after making changes in response to playtesting and feedback. Here's a list of the changes:
1. All Stats start at 9. They can be increased during hero creation as before.
2. Body and Spirit starting values are reduced.
3. Base protection starting values have changed. Base protection now works like Armor Points.
4. Odds/evens only matter with failures.
5. Idioms affect outcomes differently.
6. Hero Dice recovery has been clarified.
7. Body and Spirit increases with leveling have been modified.
8. Villain creation has been overhauled, to include adjusting the values found on Table 8: Villain Creation.
I hope the game plays better with these changes.