Well, the holiday season has ended. My two or so weeks off for Christmas and New Year's proved productive. I ran a Twelve Days of Christmas sale for select titles. I offered a bundle full of monsters for the OSR. I made a meat pie out of a hobbit. I wrote a few supernatural-influenced classes for WWII: Operation WhiteBox and posted those links on G+ and other Internet places. I started work on Heroes of Mirelyn's Skyrealm, a White Box fantasy campaign that hope kicks off this coming Sunday. I started converting Chance Encounters for use with Dungeon World. I released The Four Color Hack, a playtest set of rules for superheroic roleplaying. I'm gearing up to produce the second iteration of those rules in response to feedback from players and readers.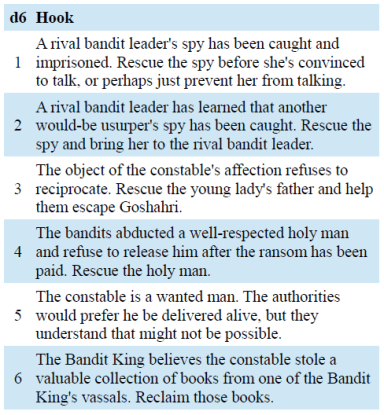 I launched Dangerous Places, my Patreon site. For $1, you get about one short scenario a month, formatted into a printer-friendly PDF complete with hand-drawn maps. I'll post the PDF link via patron-only message. I'll post the maps without the scenarios separately for the public. My first few maps have been posted. So too has Narvon's Stair, a low-level adventure for Swords & Wizardry, which is available to everyone, Patron or otherwise.
Now I'm working on Goshahri: The City in a Cave, which should be ready by the end of January. Goshahri outlines the city in a cave, the domain of a ruthless bandit king. The city and many of its denizens are described in broader strokes. The strokes get finer in Jail Break!, the mini-adventure included as part of Goshahri. The table at the right provides some random hook ideas to get adventurers involved. I plan to revisit the city in a cave at least a few more times in coming months, detailing certain sections and providing more short adventures set in the bandit king's domain.
If you've not already done so, check out Narvon's Stair. If you like it, consider becoming one my patrons. It's risk free. I produce nothing? You pay nothing. Drop me from your patronage whenever you want.
Huzzah.