And now, more gonzo ideas for WWII: Operation WhiteBox by Pete C. Spahn.
Brainiape
Armor Class: 5 [14] (heavy hide and Dex)
Hit Dice: 6
Total Hit Bonus: +6
Attacks: Weapon or fist
Saving Throw: 13
Special: Telekinesis (120 lbs), telepathy (60 ft.)
Movement: 12
HDE/XP: 7/600
Today, it is almost universally believed that Adolf Hitler commited suicide in May 1945, but this is only part of the truth. Alerted by the gunshots, Nazi doctors managed to get to Hitler's body before he died. They placed him in a state of suspended animation using Nazi superscience while they moved him in secret away from Berlin to special labs in Tanganyika, which had been part of Deutsch-Ostafrika until the early 1920s. There Nazi superscientists removed Hitler's brain to repair the damage done by the bullet. Unfortunately, organ failure in Hitler's body made returning the brain to its original place problematic, and so the superscientists transplanted Hitler's brain into the body of a fierce mountain gorilla. Years of physical therapy and further surgeries followed as Hitler's brain grew stronger and gradually adapted to its new home.
By the mid 1950s, Adolf Hitler was ready to resume his role as Führer. What's more, work on the time machine had been completed. Adolf Hitler entered the chrono-capsule and was displaced back to early 1941. Hitler's goal was to convince his earlier self to put off invading the U.S.S.R. until after Great Britain had fallen. Unforeseen complications with the time travel matrix, however, damaged Hitler's memory. Now known as Brainiape, Hitler has forgotten who he is and his mission to avert his eventual suicide, although his dreams are haunted by strange images like memories that lead Brainiape to believe that he and Hitler share some fateful future. Brainiape serves the Nazis as an agent of terror.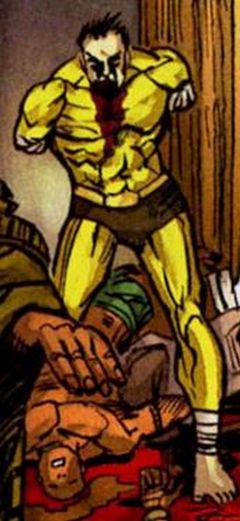 Armless Tiger Man
Armor Class: 6 [13] (martial arts training and Dex)
Hit Dice: 3
Total Hit Bonus: +3
Attacks: Bite or kick
Saving Throw: 16
Special: Demolitions, prehensile toes
Movement: 15
HDE/XP: 4/120
Eric Hertz worked in a mechanical laboratory in Munich, Germany. One day his arms were caught in a machine and were amputated. Surviving the experience and given reading material on how to operate day-to-day using his mouth and feet, Hertz developed a hatred of all machines and began honing his skills and working himself to his peak physical level.
Recruited by the Nazis, Hertz's teeth were filed into steel-hard fangs via surgery and special treatments with radioactive calcium. His feet were surgically modified to become exceptionally agile. As a result, Hertz's toes almost have the same dexterity as human hands. He was extensively training in unarmed combat, and his feet and fangs are deadly weapons. As Armless Tiger Man, Hertz is an assassin, cannibal, and saboteur.