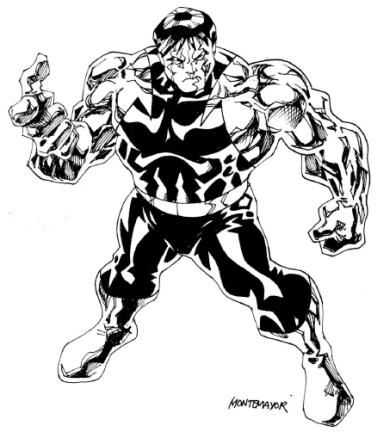 I've talked a little bit about The Four Color Hack on Facebook and G+, but not here. The Four Color Hack is a superhero game that rips the heart out of The Black Hack and transplants it into a Frankenstein's monster game system. Below is a sample hero made up with the version 1 hero creation rules.
Diesel
Back & Fore: Alfredo Ortiz grew up in a large family in south Texas. His father Carlos worked as a high school coach, and his mother Maria was a nurse in a hospice ward. Alfredo was an unremarkable student except for his industrial arts classes where he showed a combination of interest and talent that resulted in high grades and summer job offers with local repair shops. Life was good, and Alfredo seemed to be on his way toward a bright future after high school graduation. During summer vacation in between his junior and senior years, Alfredo worked full-time at Anthony's Garage. Anthony Enright was a good boss. He didn't know as much about automobile repair as one would think he should, but he had a good head for business and a list of steady customers from all over the county. Anthony was quiet, hard-working, and took care of his employees. What only a handful of people in the state knew was that Anthony's real name was Antonio Gabrielli, that he'd been an accountant for the Salvaggi crime family, and that he was currently in the Witness Security Program.
The hitmen showed up early in the morning. Alfredo was the only employee present when the shooting started. He'd been given the responsibility of opening the shop and prioritizing jobs. Anthony was dead by the time Alfredo made it to the front office. The hitmen shot Alfredo three times and left him for dead. Before they left, they poured gasoline on the floor and set the shop ablaze. Alfredo managed to drag himself through the fire into the back lot. Burned and bleeding, Alfredo was nearly dead by the time the fire trucks arrived. He was rushed to the hospital, and his family gathered, expecting the worst.
The worst never arrived. Instead, Alfredo made a startling recovery. His burns healed, and the new skin that grew was tough, flexible, and metallic. He packed on the pounds with muscle growth. Somehow, the trauma of that morning unlocked something hidden in the recesses of Alfredo's genetic code. Just a week after he had been admitted to the hospital, Alfredo left very much changed.
Motivation: Alfredo's not sure he wants to be a superhero, but his physical appearance and the publicity behind his transformation make it hard to imagine living a normal life. Also, Alfredo liked and respected Anthony, and it haunts Alfredo that he couldn't save him. What's more, Alfredo worries that the Salvaggi crime family might return to take out the only witness to Anthony's murder. Leaving home for the big city to fight crime as Diesel just seems like the right thing to do for more than one reason.
Nota Bene: For the origin story, motivation, and picture, Wes received 3d12 Hero Dice.
Ability Scores: STR 16, DEX 15, CON 18, INT 11, WIS 9, CHA 13. Health: 55. Spirit: 39.
Skills: Mechanic.
Nota Bene: Diesel's starting ability scores were STR 13, DEX 13, CON 13, INT 11, WIS 9, CHA 11. Wes exchanged 1d12 for 2d10. He rolled those 2d10 and scored 14 points to improve ability scores and purchase skills. He put 3 points in STR, 2 points in DEX, 5 points in CON, and 2 points in CHA. He purchased one skill for the other 2 points.
Powers & Abilities: Made of Steel (Metal Skin d10, Running d8, Super-Strength d12+d8).
Nota Bene: Wes had 2d12 Hero Dice remaining. Wes decides all of Diesel's powers derive from being Made of Steel. Within this container are three powers. He exchanges another d12 for 2d10. He exchanged 1d10 for 2d8. This gives Wes a d12, a d10, and 2d8 Hero Dice. He really wants to pump up Super-Strength, so Wes assigns d12+d8 to that power. He assigns the d10 to Metal Skin. This leaves him with a d8, which Wes gives to a third power simply called Running. For the curious, Diesel can lift nearly 30 tons.
Weakness: Doubtful (roll with Disadvantage against effects that play on uncertainty and inexperience).
Idioms: New to the City, Uncertain Hero.