Yesterday, I introduced Benjamina Stern, a member of the Freakshow Four, a super-powered quartet of heroes who travel the highways and byways of the U.S. and Canada in the early 20th century, fighting crime and entertaining people with their remarkable abilities. All four members of the FF gained their powers after being bombarded by cosmic radiation from the Aurora Borealis while camped just outside Anchorage, Alaska. All members of the FF were made using Atomic Sock Monkey's Trust & Justice. Here's the rest of the team.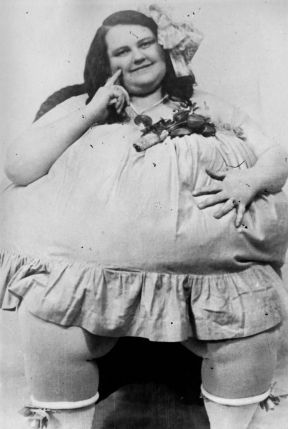 Elizabeth Hermann
Background: Elizabeth Hermann grew up in a close-knit German-American family where she learned to enjoy six meals a day plus substantial snacks during those times between meals. Young Elizabeth developed a prodigious appetite by the time she was six. She preferred playing with candy rather than toys. Her parents soothed Elizabeth's hurt feelings over teasing by her peers with even more home-cooked food. By the time Elizabeth dropped out of school — in part to escape the teasing of her classmates but also to help contribute financially to her family — she weighed nearly 300 pounds. By her early 20s, she weighed nearly 400 pounds. To help her family, Elizabeth held a variety of jobs. She worked in factories, sold cosmetics, and worked as a manicurist. It was while working in the latter job that Elizabeth met Jacob Moore (see below), who was in town for a show. It was love at first sight. Elizabeth and Jacob were married after just a few weeks, and Elizabeth joined the circus.
Motivation: Serve those she loves and feels responsible for.
Qualities: Expert [+4] Beautiful Contralto, Expert [+4] Firm Resolve, Good [+2] Jill-of-All-Trades, Poor [-2] Grace and Speed
Powers: Good [+2] Siren's Song, Good [+2] Sonic Beam, Good [+2] Sonic Force Field
Stunts: Good [+2] Auditory Illusions (Sonic Beam Spin-Off, 2 Hero Points); Poor [-2] Flight (Sonic Force Field Spin-Off, 0 Hero Points)
Limitations: Siren's Song is a form of Mind Control, but it requires that Elizabeth sing and that her targets both hear and understand her. Her Sonic Beam and Sonic Force Field also require that she be able to vocalize.
Hero Point Pool: 5/10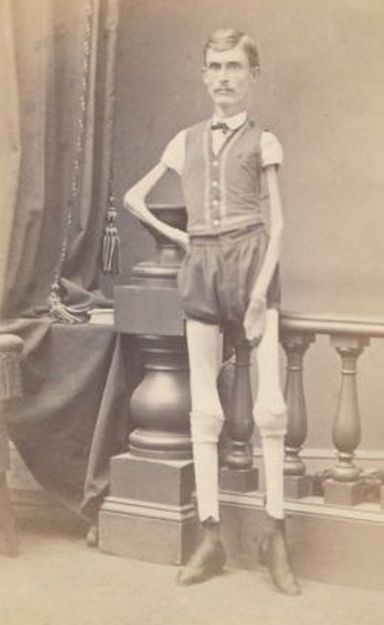 Jacob Moore
Background: Although normal for most of his childhood, Jacob Moore began irreversibly losing weight at age 12 after feeling ill after swimming. The gradual weight loss continued throughout his life despite having a healthy appetite. Always a bright young man, Jacob studied mechanical engineering until his poor health forced him to withdraw from university before completing his studies. After this, he bounced around from job to job, but his illness kept him from holding any job too long. Jacob found steady employment with the circus, where he billed himself as the Original Living Skeleton. Jacob's poor health required him to constantly take in nutrients. His health was in such a poor state that he often carried milk in a flask around his neck, from which he would sip this from time to time to keep himself conscious. Since the Aurora Borealis event, Jacob's illness has vanished.
Motivation: To use his wits to solve people's problems.
Qualities: Expert [+4] Inquisitive Mind, Good [+2] Mechanical Engineering, Good [+2] Love for Elizabeth Hermann, Good [+2] Stage Actor, Poor [-2] Absent-Mindedness
Powers: Expert [+4] Omni-Skeleton, Average [+0] Elastic Skin, Average [+0] Regeneration
Stunts: Jacob's Omni-Skeleton is a Meta-Power based on his ability to reconfigure, grow, shrink, and otherwise alter his skeletal structure.
Limitations: Treat the +4 of Omni-Skeleton has a pool of points that can be assigned to powers based on skeletal changes. No power can be ranked higher than Good [+2] or lower than Average [+0]. An Average power costs 1 point. It takes Jacob an action or reaction to alter his skeleton.
Hero Point Pool: 5/10
Jeanne Charles
Background: Jeanne Charles was orphaned at the age of 10, and she found herself in the benevolently neglectful care of a home for girls. By the age of 15, she had runaway for the last time, making her way to the coast. Pretty and athletic, Jeanne found work as a dancer in a variety of less-than-reputable establishments, environments that encouraged her to think fast and live faster. She joined the circus first as an apprentice to the lion tamer, but she quickly showed a real talent for working with all manner of animals. Combined with her impressive skill as a dancer, Jeanne became one of the circus's main attractions.
Motivation: Action and adventure for the common good? Hell yeah!
Qualities: Master [+6] Exotic Dancer, Good [+2] Animal Trainer, Good [+2] Daredevil, Poor [-2] Act Like a Lady
Powers: Expert [+4] Like an Animal, Average [+0] Animal Telepathy, Average [+0] Menagerie of Critters
Stunts: Good [+2] Acrobatics (Exotic Dancer Spin-Off, 0 hero points)
Limitations: Like an Animal is a Meta-Power. Treat the +4 bonus as a pool of points that can be assigned to various animal abilities. An Average power costs 1 point. Jeanne must touch the animal from which she gets the powers. She keeps an animal's powers for a duration determined by the highest ranked power or until she decides to acquire a new set of abilities.
Miscellany: Menagerie of Critters functions as the Minions power.
Hero Point Pool: 5/10