Today offers three more monsters, one each for Advanced Dungeons & Dragons, Mutant Future, and Swords & Wizardry, respectively. Enjoy!
Dringwr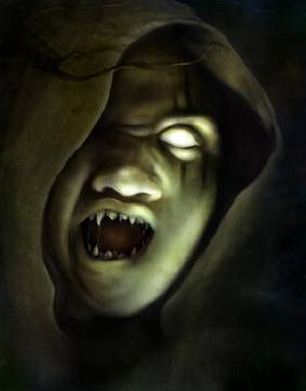 Not all halflings are "hard-working, orderly, and peaceful citizens". A few embrace lives of sloth, disorder, and violence. These aberrations seldom last long in the typically lawful and good villages of their fellow halflings. Exile or even execution for their crimes are the most common consequences. Very rarely, such a wicked halfling returns from the grave as a dringwr, a terrible undead monster that loves nothing except for inflicting pain and causing sorrow. Of course, a dringwr prefers to prey on halflings, but its spiteful nature delights in harming any living creature that it can. A dringwr can summon and control dogs, calling 3-18 such animals to arrive in 2-12 melee rounds. It also moves with great stealth, surprising other creatures 4 times in 6. A dringwr cannot be harmed by normal weapons, and it makes all saving throws as if it had 6 Hit Dice. In combat, it attacks with its talons and fangs.
Of grayish-green complexion, a dringwr tends toward rust-red or black hair coloration. Its eyes are solid white. It dresses in drab trousers and coat, and often uses a hooded cloak to hide its obvious undead appearance. Short, ragged fangs line its gums, and its fingernails and toenails hook like talons. A dringwr speaks whatever languages it knew in life.
Dringwr: Freq very rare; # App. 1-6; AC 5; Move 9″; HD 2; % in Lair 35%; Treasure B; # Atk 3; Dmg/Atk 1-3/1-3/1-4; SA summon/control dogs, surprise others 4 in 6; SD +1 or better weapon to hit, save as 6-HD monster; MR standard; Int Very; AL CE; Size S; Psi nil; Lvl/XP III/52 +2/hp.
Demodex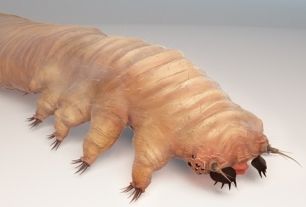 Eight-legged with a flat tail, growing to the length of a man's arm, fleshy with a rippled and leathery back, its blunt head featuring antennae and multiple small black eyes, the horrid demodex attacks with its spiked, oval mandibles. This mutant monster feeds on skin and sebum, the oily or waxy matter secreted to lubricate and waterproof the skin and hair of mammals.
Demodexes are aggressive and voracious. They use their remarkable olfactory abilities to detect and track mammals, which are their preferred prey given the demodex's unusual diet. A demodex's attacks can cause an allergic infection in mammals. Such a victim has a 2% cumulative chance per point of damage suffered from a demodex to develop such an infection. Treat allergic infection as a disease with the following statistics: save modifier -1; infection duration 1d12 days; affected stats DEX -2, CHA -1 (if visible); damage/day 1d4.
Demodex: # Enc. 2d4; AL N; MV 120′ (40′); AC 6; HD 2; Atks 5 (4 claws, bite); Dmg 1d4/1d4/1d4/1d4/1d6; SV L1; Morale 7; Hoard None; XP 38; Mutations Allergic Infection, Increased Smell.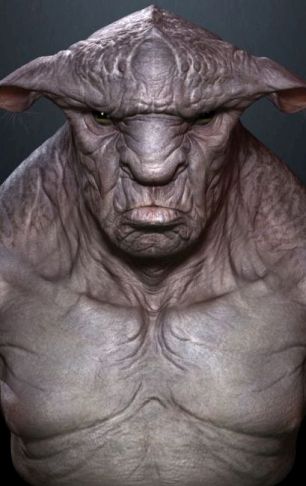 Skacina
Skacinas are brutish humanoids with a thick, wrinkled hide. A peaked, heavy plate of bone tops a skacina's heavy skull, which is supported by powerful neck and shoulder muscles. These creatures live in rugged hills and mountains, and make their lairs in natural caves or abandoned structures built by others. Skacinas practice only the crudest of crafts, making simple tools from hide, bone, wood, and stone. While they are not particularly intelligent, skacinas are territorial and prone to violence.
For some reason, skacinas are immune to petrification. Some sages conclude that these monsters have a distant origin on the Elemental Plane of Earth. This theory seems to gain support due to the fact that skacinas often kill captured trespassers by crushing them beneath large rocks or by burying the captives alive.
Skacina: HD 3; AC 6 [13]; Atk 1 head butt (1d4) and weapon (1d6); Move 12; Save 14; AL C; CL/XP 3/60; Special: immune to petrification.