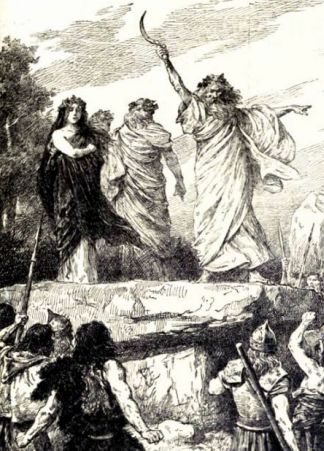 Before we get to the new druid spells, an important announcement: From now until the end of May, all Spes Magna Games PDFs in the category of OGL OSR are on-sale for 50% off their normal prices. Huzzah! You can check out the affected titles by clicking here.
And, now, some love for druids!
Gnauskaia's Arid Brotherhood
Spell Level: Druid, 3rd Level
Range: 30-foot radius around caster
Duration: 1 hour
By means of this spell, the druid summons a 1d4+1 small dust devils to perform simple tasks. These whirling masses of dust and hot air can fetch and carry things, open doors, blow small objects about, et cetera. Each continues its assigned task until it is given another command. A dust devil conjured by this spell cannot exert a force of more than 20 pounds, nor can it attack or move beyond the spell's range.
Laununill's Muddy Lexicon
Spell Level: Druid, 1st Level
Range: Normal reading distance
Duration: 10 minutes
The druid pours a quantity of water and mixes it with dirt while casting this spell. For the duration of the spell, words spoken within range appear in the mud scribed in the secret tongue of the druids. Written words may also appear in the mud if the source of the writing is touched to the puddle. Once the druid reads the words, they fade away.
The Spell of Centrifugal Aurora
Spell Level: Druid, 4th Level
Range: 20-foot cylinder
Duration: 1d6+1 turns
A cylinder of roaring wind and cracking electricity with a 20-foot diameter whirls about the druid. Each round, any creature within the cylinder other than the druid must make a saving throw. Failure means the creature is sucked through the vortex of wind and lightning, suffering 1d6 points of damage from being buffetted about and another 3d6 points of damage from lightning blasts before being thrown to the outside of the cylinder.