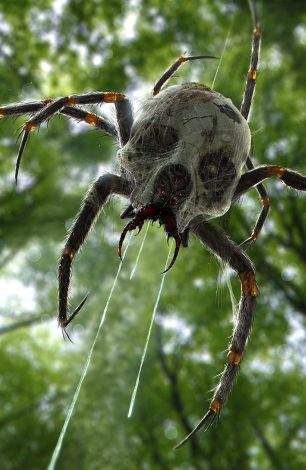 Orgimchak is an area of ancient woodland near Hasharot. It is a former royal forest that covers 2,476 hectares (which equals a bit more than 6,100 acres), and contains areas of woodland, grassland, heath, rivers, bogs, and ponds, spread lengthwise about 12 miles and being no more than 3 miles east to west at its widest point. In most places, Orgimchak is considerably narrower as it lies on a ridge between the valleys of the rivers Tizma and Choqqi.
As early as last century, Orgimchak was a valuable area for wildlife and foraging. Today, Orgimchak is accursed. Its oak, beech, and hornbeam trees produce prodigious, twisted branches so heavy that their weight often cannot be supported by the parent tree. As a result, large amounts of dead wood in the forest supports numerous rare species of fungi and invertebrates, many of which are dangerous, even deadly. Unusual numbers of rats and adders live in Orgimchak, and even the small breed of deer native to the region tends to be fiercely aggressive. Orgimchak's boundaries include over 100 lakes and ponds. Most of these bodies of water are small but deep. The fish within these lakes and ponds are abundant, but few are considered edible by any but the most hungry. The fish from Orgimchak's ponds and lakes have an unwholesome, greasy flavor.
The evil that infects Orgimchak took root gradually. For a time, the notorious and brutal Rihard Turvin maintained a hideout within Orgimchak. He waged a campaign of brigandage, kidnapping, and arson for months before authorities from nearby Lounoun tracked Rihard to his lair and slaughtered him and his followers. Since that day, Orgimchak has become a nexus for violent crime. No fewer than four children have been murdered and their bodies dumped in Orgimchak by at least two killers. At least nine other murder victims have been found in the forest. Most of these heinous crimes have occurred in the past decade, but the earliest murders took place more than 40 years ago. Who knows how many other bodies remain undiscovered in Orgimchak?
To this day, bandits and orcs regularly use Orgimchak as a hideout. More serious threats, such as ogres and trolls, infrequently stalk the forest, and stories of ghosts seeking either revenge against or consolation from the living have long been set in Orgimchak. Perhaps the deadliest inhabitant of this cursed forest are pholcids, a terrifying combination of giant spider and undead monster.
A pholcid is an intelligent, magical giant spider that uses a humanoid skull as a shell, exchanging one skull for another as the pholcid grows or as the skull becomes damaged. A pholcid cannot be harmed by normal weapons, and it moves with stealth and speed. It prefers to attack by surprise, most often casting its webs at its victims before closing to bite. A pholcid's web fills an area 5 x 5 x 10 feet. This monster's web is as strong as a Web spell, and a pholcid may project its sticky fibers 1d4 times per day.
Pholcid: HD 2; AC 6 [13]; Atk 1 bite (1d4 + poison); Move 12; Save 16; AL C; CL/XP 5/240; Special: 3 in 6 chance to surprise prey, hit only by magic or silver weapons, lethal poison (+2 saving throw), webs.