Are you familiar with the art of Domenico Neziti? If your answer is "No", you owe it to yourself to check out his on-line portfolio. If Spes Magna Games had an art budget, I'd love to commission Domenico to do a cover and some interior art.
Domenico's art has a definite voice that sets it apart. His character studies are evocative and stylized in a way that reminds me of Tony DiTerlizzi's Planescape work. Domenico's monsters are usually scary, but some are adorable. His action pieces are dynamic and vivid.
Domenico has graciously permitted me to feature two of his pieces on site for this post. If you click on either piece, it will embiggen for greater clarity.
And now, some game content for Fate Accelerated Edition.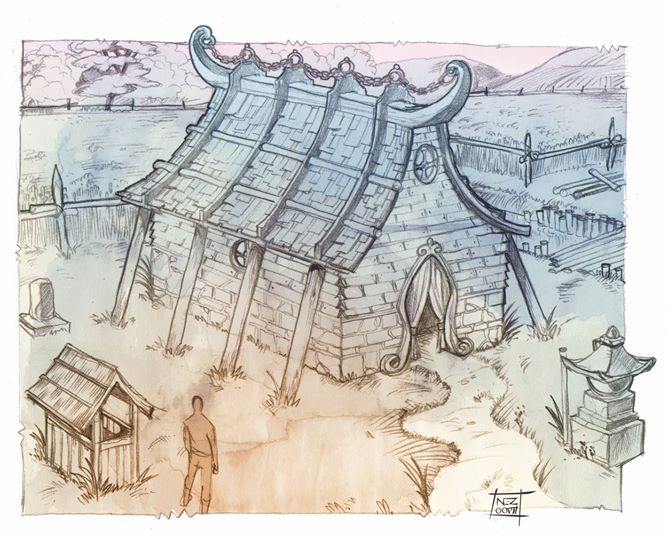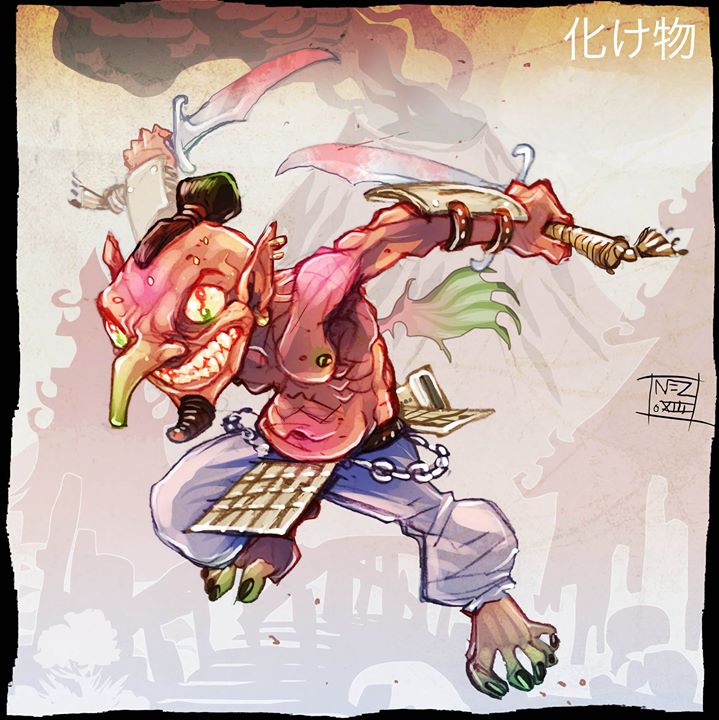 Sitting adjacent to a narrow, shallow canal that angles its way between barley fields, Kaosunoie appears as little more than a smallish, sturdy stone building. Its single entrance is blocked by nothing more than a silk curtain. Its small round windows hold nothing within their panes, presenting no real obstacle to sun, wind, or rain. The nearby well offers fresh, crisp water, and the dai-dōrō next to the winding path leading up to Kaosunoie hints that the structure is some sort of shrine.
Only the most aged locals remember a time when Kaosunoie was not there, and in the decades following the buildings mysterious appearance after a thickly fogged, windless night, everyone in the nearby farming village has made their peace with the strange structure. At the appointed times, they offer sacrifices of barley, rice, and braided hair, leaving these offerings around the dai-dōrō. In return, the bakemono that live within Kaosunoie avoid destructive mischief and even defend the village against threats.
Kaosunoie's interior exists within two overlapping realities. In the mundane reality that the village also occupies, the building houses a single room with a dirt floor and unadorned walls. For those who, like the bakemono, can cross over into the spirit realm, Kaosunoie's interior is a bewildering maze of corridors, ladders, chambers, and courtyards open to a starless, cloudless sky locked in eternal twilight. Dozens, maybe hundreds, of bakemono live in Kaosunoie, and the spaces harder to reach are home to more dangerous creatures, including at least one oni.
Stats for gangs of bakemono:
Bakemono Gang
Shapeshifter
Skilled (+2) at: Ganging up, pranks
Bad (-2) at: Staying focused, maintaining current form
Stress: [] [] [] (6 bakemono)
Stats for a bakemono character:
O-Tomiki
High Concept: Bakemono Shaman of the Void
Trouble: No Such Thing As Too Much Sake
Other Aspects: My Shapeshifting Powers Are Strong, Look! Over There!, I Can Smell Your Weakness
Approaches: Careful Mediocre (+0), Clever Average (+1), Flashy Fair (+2), Forceful Average (+1), Quick Good (+3), Sneaky Fair (+2)
Stunts
Like the Wind: Because my form is fluid, I gain a +2 to Quickly create an advantage or overcome an obstacle by changing my shape.
Refresh: 3