nascent: (adj.) just coming into existence and beginning to display signs of future potential
Spacers first encountered nyotagomas during the early decades of interstellar travel as humanity slowly recovered from the Scream's devastation. The total absence of nyotagomas from surviving pre-Scream records led many to conclude that this species is either a mutation of a previously benign creature, or else nyotagomas entered human-inhabited space as a result of the Scream. Whatever the truth, nyotagomas proved too dangerous to be left alone, and a genocidal program was launched against them. The program seemed successful after several hard-fought years. Attacks on spacers and orbital installations by nyotagomas dwindled to nearly none at all.
Stellae Zaibatsu, an industrial conglomerate focused on planetary mining and metallurgy, took a keen interest in nyotagoma physiology and reproduction. The organism's ability to survive in the hard vacuum intrigued corporate researchers, who sought better ways for miners to live and work in environments often deadly to humans. As a result, Stellae Zaibatsu xenogengineers made a remarkable discovery.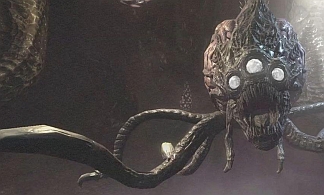 Nyotagoma reproduce asexually via budding. The adult organism submerges itself in a marine environment and produces several immature organisms, which bud from the parent's body near the base of its tentacles. After a brief period of growth, these buds separate from the parent, becoming independent marine creatures. If these buds are harvested and subjected to the proper combination of chemicals and genetic manipulation, they cease maturing and enter a symbiotic stage which enables the organism to be grafted onto a human host.
The nyotagoma symbiote, or Nyosym (available in many tech level 4 markets for 10,000 credits), integrates itself with its host's body and helps regulate the host's metabolism. A Nyosym host's gains a +2 bonus to saving throws against toxins and biological hazards. He also gains +1 hit point per Hit Die. These hit points are lost before the host's own hit points, at a rate of 1 hit point per die of damage inflicted. For example, a host suffering 7 points of damage from 2d6 points of damage would suffer 5 hit points of damage while the Nyosym's bonus hit points are depleted by 2 points.
Any time a host fails a saving throw versus a toxin or biological host or suffers sufficient damage to deplete the Nyosym's bonus hit points, the Nyosym has a 25% chance of dying. Should this happen, emergency surgery is necessary to remove the dead organism before infection sets in. Otherwise, a Nyosym with no bonus hit points remaining becomes dormant, recovering 1 hit point per day. The host receives no benefits from a dormant Nyosym.
Adult nyotagomas remain rare in inhabited space, which is a good thing for spacers since adult nyotagomas are highly intelligent and extremely dangerous. In addition to the impressive stats below, a nyotagoma has an effective 16 Intelligence. It can survive in a hard vacuum with ease. It is immune to the hazards of outer space, such as the vacuum, cosmic radiation, et cetera. Extreme conditions, such as flying too close to a star, still prove disastrous. A nyotagoma can fly through outer space as if it were a drive-1 rated starship. These creatures always succeed at Navigation checks. It has extremely acute vision, able to see emissions throughout the entire electromagnetic spectrum. If a nyotagoma forgoes its normal attacks, it can make a single devastating attack 2d12 points of damage that affects inanimate objects like a gunnery weapon.
Nyotagoma
Armor Class: 2
Hit Dice: 10
Attack Bonus: +18/+18
Damage: 1d12/1d12 hooked tentacle
No. Appearing: 1d4
Saving Throw: 10+
Movement: 40 ft. fly
Morale: 12