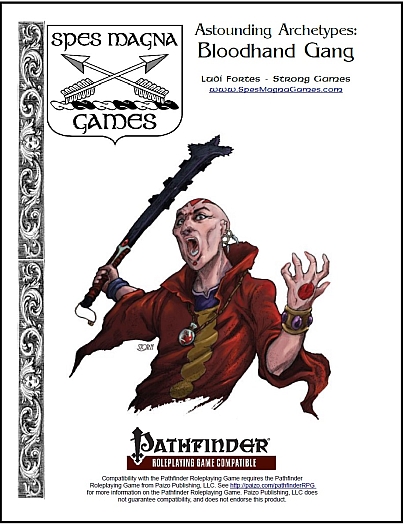 Whew!
I've not been this productive with Spes Magna Games in a while, and I'm determined to make more of my week off for Thanksgiving. So far this week, aside from blogposts, I've managed to get:
1. Metro Gnomes on-line for sale.
2. The Quid Novi? Collection on-line for sale.
3. Rantz's Fair Multitude on-line for sale.
4. The Amphitheater of the Continuum on-line for free download.
Next up? Well, I'm going to try and finish Astounding Archetypes: Bloodhand Gang. This PDF will be a return to Pathfinder material for Spes Magna Games. It features five new archetypes, one each for barbarian, fighter, magus, monk, and rogue, plus five villainous NPCs, one for each archetype.
I'd like to have Astounding Archetypes: Bloodhand Gang on-line for sale before Monday, 2 December, but there're no guarantees. As the number of hours of vacation left to me dwindle, those things I've been putting off (such as getting grades into the gradebook and lesson plans) start to become more urgent. Also, I'm running 3:16 Carnage Amongst the Stars this coming Friday, and I really should finish up the scenario before people show up expecting to play.
Still, this has been a good week for Spes Magna Games. Huzzah!