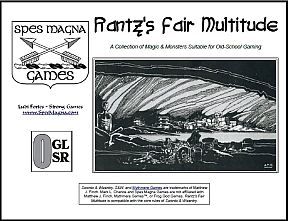 Welcome to Rantz's Fair Multitude! This Old-School game supplement offers 30 pages of ideas to challenge and reward your players. Among the multitude, you'll find the following:
* Nine new magic items, including Demon Cymbals and Nails of Prynn
* More than 25 new monsters (with plot hooks), including the book golem, hungry ghosts, and the Seekers of the Eternal Flame
* Six special places you can drop into your campaign, including the Bridge of the Damned and Stadgaar Manor
* Eight new spells, including Arcasparv's Doomful Gullet and Valfoxell's Adventitious Pretense
* Brief descriptions for a 12 deity pantheon, including Cro, the God of Truth, Chaos, and Opposites
Rantz's Fair Multitude can be purchased for $1.50 at DriveThruRPG with special discount.