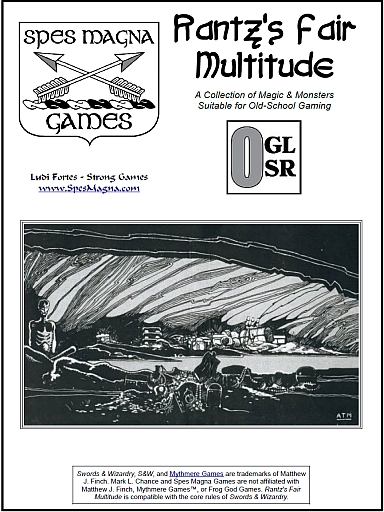 Coming soon to a virtual store near you: Rantz's Fair Multitude!
This currently-under-production PDF features more than 20 pages of new magic items, monsters, places of power, and spells. Much — but not all — of this material has been gleaned from this very website, and then expanded, improved, and clarified for your Old School needs. Rantz's Fair Multitude should be available by the end of October.
In related Spes Magna news, A Medieval Holiday is on sale for a mere $0.75 at DriveThruRPG between now and the middle of December. This special code is your link to the savings. With A Medieval Holiday, you get everything you need to host a Pathfinder-compatible medieval banquet in your home (except the groceries, guests, and other things that won't fit in a PDF, of course).
Huzzah!