I got nothing gaming related for today. I just got in from celebrating my daughter's birthday. Adrienne doesn't get mentioned much on this site. My son, Christopher "Giant Boy", merits a few mentions here and there because he shares my interest in gaming. Adrienne doesn't. We have other things in common — such as sarcasm and Black Sabbath.
Anyway, as I was saying, we celebrated her birthday this evening. We went to a nearby Japanese restaurant for sushi. Lotsa sushi. I had a large hot sake. I ate my wife Katrina's miso soup. Adrienne and I split a tempura ice cream. We giggled a lot. I don't normally giggle, me being a man in his mid-40s, but giggling with Adrienne is acceptable.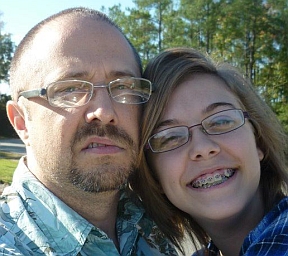 Adrienne's birthdays are always special since she's kind of like our miracle baby. About three-fourths or so of the way through the pregancy, doctors told us that there was a 50-50 chance that Adrienne wouldn't be born, that Katrina would miscarry. In the end, everything worked out just fine. Adrienne was born today fifteen years ago, and she was quite the pudgy baby, weighing in at a bit more than nine pounds.
So, happy birthday, Adrienne! I can't imagine what my life would be like without you.